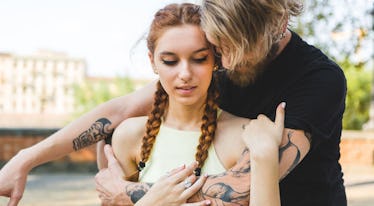 4 Signs Your Partner Is Stringing You Along, So You Can Start Moving On
In today's dating world, it seems as if communication has become more and more lackluster. It's hard to know how someone feels anymore, and even if you're dating someone, that doesn't mean things are going to be easy. So, it's important to know all the signs your partner is stringing you along, because it happens more than you might think.
Unfortunately, it can be hard to tell if someone is genuinely interested in being in a committed relationship with you, or if they're just looking for something a little more casual. Obviously, everyone should be able to do what they want to do, and if you don't want a serious relationship, then that's fine. But, it's not fair to lead someone else on when something serious is what they're looking for.
So, if you're with someone, and you aren't sure whether or not they're seriously invested in your relationship and your future, what can you do? That part is up to you. But first, you have to figure out whether or not your partner is actually stringing you along, or if there's something else going on. Because really, you don't want to be wasting your time with someone if they're already of the mindset that it's not going to last.
That being said, here are some signs that your partner is just stringing you along, according to experts.