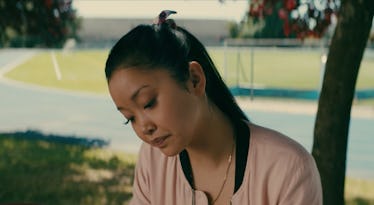 If You're Lusting Over Lara Jean's Lashes In 'To All The Boys I've Loved Before,' Here's How To Get 'Em
Netflix
If you haven't yet seen Netflix's best rom-com to date, To All The Boys I've Loved Before, I'm going to have to begin this post by firmly insisting you open a new tab and start streaming it ASAP. The movie is guaranteed to make you laugh, squirm, and cheer for Lara Jean as she navigates her minefield of a love life. Lara Jean, played by Lana Condor, is exactly the kind of female protagonist I want to see more of on the screen. Not only is she serving us a much-needed dose of Asian-American representation, but she's doing so with some of the best lashes I've ever seen. Since the movie premiered, I've been trying to figure out how to master the grandeur of Lara Jean's eyelashes ever since.
Here's why her lashes struck me as so, so good: They were long, luscious and curled up to the gods in a way that gave her a wide-eyed look at all times. Still, they were natural-looking enough to convince me that an everyday teen could really wake up like this, if you know what I mean. No wonder Gen and all the bullies were so jelly of Lara Jean — she was rocking her beauty like nobody's business! In fact, I'm surprised the movie didn't end with all five of her crushes battling it out to win her heart (and flirty lashes) for themselves.
Am I a bad person if, when Lara Jean faints on the track, I am more concerned with how great her lashes look than her well-being?
And when she's writing down rules for her fake-relationship with Peter Kavinsky, am I the only one who paused the movie to gawk at this luscious lash side profile?!
Of course, I really lost my cool during the last scene, in which Lara Jean realizes she really can have it all... the love life, the love of her life, and the lashes!
So how did these dreamy eyelashes make their way onto Lara Jean's lids? In an interview with Allure, Sharon Toohey, the makeup department head on the set of To All The Boys I've Loved Before, said the secret was lash extensions, which Condor wore throughout the filming of the movie.
As for those special scenes that required a little extra oomph? Toohey told Allure that "sometimes individual lashes were added in for certain scenes." In particular, the MAC Cosmetics 30 Lash Set ($17, maccosmetics.com) was used to amp up Condor's already wide-eyed look. The set comes with short, medium, and long lashes that can be placed sparingly for a super natural look, or packed on for that Lara Jean smolder.
I've always been a fan of strip falsies, but maybe individual lashes are the key to scoring myself a Peter Kavinsky?? It's worth a shot, I suppose. Since I don't have lash extensions like Lara Jean as a base, though, I'll probably settle on a happy medium between strip lashes and individual lashes: trios. Trio lashes are three individual lashes clustered together for easier application, and the Kiss Ever EZ Lash Trio in Medium Length ($5, ulta.com) will get the job done a little bit quicker than placing on single lashes one by one.
To all the strip falsies I've loved before: It's time to say goodbye, because now that I know the secret to Lara Jean's long, full eyelashes, there's no turning back.