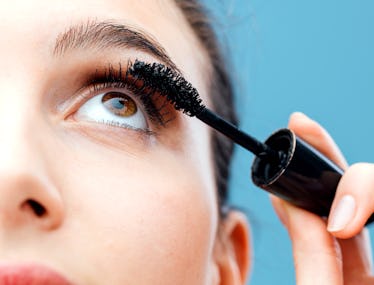 This Brilliant Makeup Product Is Basically Eyelash Extensions In A Tube
If you're looking to achieve longer, fuller lashes without the hassle of wearing false eyelashes, then you've come to the right place. Unlike traditional mascaras, the best 3-D fiber lash mascaras can boost the length and volume of your lashes to give you the seriously-amplified look of eyelash extensions.
However, even though fiber lash mascara is a low-maintenance alternative to wearing false eyelashes, it can be slightly more labor intensive than your average mascara. That being said, the results are certainly worth the extra effort. The most common fiber mascaras feature two products: a gel that primes your lashes and fibers that adhere to your lashes to add volume and length. The application process varies depending on the individual fiber lash mascara, but it often involves multiple steps that, once finished, will give you longer, fuller-looking lashes.
Don't be fooled by the branding, though — not all fiber mascaras are created equal, and when searching for one to add to your eye makeup regimen, you want to be sure that you choose a non-irritating formula that won't smudge or flake mid-day.
From a one-step mascara for the fastest application to an ophthalmologist-tested duo safe for sensitive eyes, this roundup of the best 3-D fiber mascaras is sure to have the right one for you.