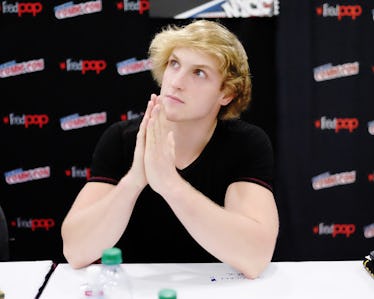 Logan Paul Has Made A Whole Bunch Of Money On Social Media, & Here's How
Nicholas Hunt/Getty Images Entertainment/Getty Images
After a nearly month-long social media hiatus, Logan Paul has returned to YouTube. Although many were skeptical about his return, the vlogger appears to be turning over a new leaf, at least for now. The controversies and consequences he's faced so far in 2018 have led many to wonder, how does Logan Paul make money? His revenue comes from a variety of sources.
First and foremost is, in fact, YouTube. However, Paul actually got his start on Vine, where he posted clips of himself performing physical stunts and making a fool of himself in public, attracting brand partners like Pepsi, HBO, Virgin Mobile, and Ritz. He went on to create sponsored content for these partners, which kick-started his career. His brother and fellow Viner-turned-vlogger, Jake, told People, "within six months, we were making more money than our parents."
By the time Vine folded, Paul had already moved to Los Angeles to pursue content creation full-time. He quickly transitioned to YouTube, where he currently has over 20 million subscribers across his two channels, OfficialLoganPaul and Logan Paul Vlogs.
According to Forbes, his YouTube endeavors accounted for about $3.25 million of his $12.5 million earnings in 2017 — certainly a nice chunk of change for a 22-year-old. To put it in perspective, the average American 22-year-old earns $27,300 annually, per CNBC. This money likely came from advertising via YouTube's Google Preferred service, which "aggregates YouTube's top content ... into easy-to-buy packages for brand advertisers." However, Paul's content has been removed from the service, following recent controversy involving the filming of an apparent suicide victim.
But remember that that's just about a quarter of his annual income. So where is the rest of the money coming from? Like most influencers, Paul also creates branded content for Instagram and Facebook. His posts on each platform can go for $80,000 and $150,000, respectively, and these brand sponsorships earn him $3 million to $4 million each year, per Forbes.
Then there's his clothing line, Maverick. Maverick's inventory includes $55 sweatshirts and $100 backpacks, as well as $20 socks and phone cases. Forbes notes the brand's direct-to-consumer strategy, which includes pop-up shops and an exclusive internet store. This allows Paul to collect a higher net profit than other influencers who have started their own clothing lines, because, well, of course.
So what does this mean? Well, for starters, it means I should consider a YouTube career. It also means that despite the consequences Paul has faced over the last month, he will likely continue to earn millions.
Paul came under fire at the beginning of the new year for a vlog taken in Japan's Aokigahara Forest, which featured an apparent suicide victim. A number of entertainers expressed their disgust with the content, including Sophie Turner, Aaron Paul, and Anna Akana. The backlash continued when a supercut of more disrespectful behavior by Paul during his trip began to circulate on Twitter. This led to two apologies from Paul and an eventual break from his daily vlogs and other social media.
He returned to YouTube on Jan. 24 with a video titled "Suicide: Be Here Tomorrow," which featured him sitting down with Dr. John Draper, director of the National Suicide Prevention Lifeline, and Kevin Hines, who survived a suicide attempt. In the video, he outlined five ways to help someone who might be struggling with suicidal thoughts or feelings. He has pledged to donate $1 million to various suicide prevention organizations, beginning with $250,000 to the National Suicide Prevention Lifeline.
If you or someone you know may be at risk for suicide, you can call the Trevor Project's 24/7 Trevor Lifeline at 866-488-7386 or the National Suicide Prevention Lifeline at 800-273-8255.