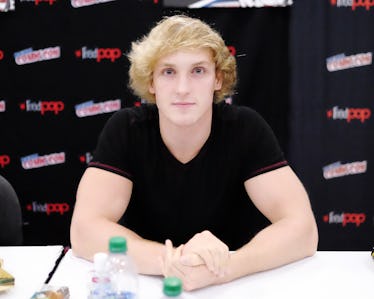 Logan Paul Is Facing Major Consequences After His Awful Suicide Forest Video
Nicholas Hunt/Getty Images Entertainment/Getty Images
YouTuber Logan Paul has had a disastrous few weeks to say the least. From the backlash following his controversial "suicide forest" video to Twitter finding out that he reportedly made money off an apology video, we have to ask the age old question: Is it too late now to say sorry? Apparently so, seeing as YouTube is reportedly punishing Logan Paul by dropping a number of his projects for this upcoming year.
According to Polygon, YouTube said on Jan. 10 that the site had removed Paul from Google's top-tiered preferred ad program and will not move forward with his upcoming YouTube Red movie The Thinning: New World Order. The movie, which Paul was to star in, is a sequel to the vlogger's 2016 film The Thinning, a dystopian social-science thriller.
"In light of recent events, we have decided to remove Logan Paul's channels from Google Preferred," a YouTube representative told Polygon. "Additionally, we will not feature Logan in season 4 of Foursome and his new Originals are on hold." A YouTube representative confirmed the decision to Elite Daily by email. A request for comment to representatives of Logan Paul was not returned by time of publication.
In addition to the controversy following Paul, YouTube itself has been in hot water from the public, mainly due to its silence following the backlash and the length of time it took to take down the video. As a response, YouTube released an open letter on Twitter on Jan. 9 explaining its silence and the impact Paul's video had on its community. It said,
Many of you have been frustrated with our lack of communication recently. You're right to be. You deserve to know what's going on. Like many others, we were upset by the video that was shared last week. ... We expect more of the creators who build their community on @YouTube, as we're sure you do too. The channel violated our community guidelines, we acted accordingly, and we are looking at further consequences. ... We know that the actions of one creator can affect the entire community, so we'll have more to share soon on steps we're taking to ensure a video like this is never circulated again.
It seems that it's taken those steps.
YouTube's move comes as a response to the backlash following Paul's controversial "suicide forest" video posted on Dec. 31, 2017. The video showed Paul and his friends apparently finding a body in Japan's Aokigahara Forest, known for its suicides, and making jokes upon the discovery. The video was met with a horrified backlash for its disrespect. Paul took down the video a day later, and in its place posted an apology video on behalf of the past video and himself. He also posted an apology on Twitter, where he said:
This is a first for me. I've never faced criticism like this before, because I've never made a mistake like this before. I'm surrounded by good people and believe I make good decisions, but I'm still a human being. I can be wrong. I didn't do it for views. I get views. I did it because I thought I could make a positive ripple on the internet, not cause a monsoon of negativity. That's never the intention. I intended to raise awareness for suicide and suicide prevention and while I thought 'if this video saves just ONE life, it'll be worth it,' I was misguided by shock and awe, as portrayed in the video. I still am.
However, it was later reported that the video was monetized and therefore Paul had allegedly earned more than $12,000 for the apology video alone — creating a whole new backlash. Amid the controversy, Paul took to Twitter on Jan. 3 to announce his departure from YouTube in order to "take time to reflect."
Twitter users weren't the only not having it. Japan's suicide rate is among the highest in the world according to May 2017 reports, and Japanese suicide prevention group Ova — particularly the organization's head, Jiro Ito — also condemned Paul's actions and video. In an interview with The Japan Times, Ito discussed the danger of such videos concerning suicide prevention and the inappropriate manner in which Paul and his friends reacted. "It raises serious issues from the point of suicide prevention," Ito told The Japan Times. "It is totally unacceptable to show someone who was driven to suicide as if it's humorous content."
Hopefully, YouTube's reported move will really drive that point home.
If you or someone you know may be at risk for suicide, you can call the Trevor Project's 24/7 Trevor Lifeline at 866-488-7386 or the National Suicide Prevention Lifeline at 800-273-8255.