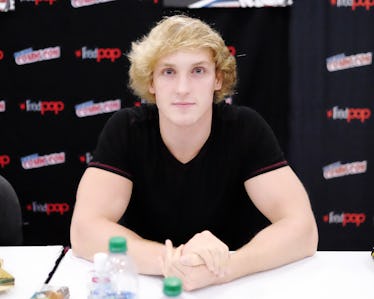 Logan Paul Reportedly Made Thousands Off His Apology Video, Because Everything Sucks
Nicholas Hunt/Getty Images Entertainment/Getty Images
Logan Paul's release of an extremely controversial video of him filming in Japan's famous Aokigahara Forest, also known as the "suicide forest," has certainly put him in the spotlight. Since the controversial video was released, the YouTuber has faced extreme backlash from the public. So, as a sign of good faith, he later posted an apology video featuring a list of suicide prevention hotlines. Well, now it's been reported that Logan Paul's apology video earned him over $12,000. Gross.
Paul's YouTube channel caters to an audience of over 15 million subscribers, and seeing as the apology video was monetized, it was revealed that apology video alone could have made Paul anywhere from $12,000 to $97,000 due to the 24.2 million views and a million comments it received, according to a report from SocialBlade. Paul gets paid every time his video is viewed, although that amount is typically based on the specific advertisers of his channel, so we can't know the exact amount he earned. The fact that the apology video was monetized at all was unknown until recently, leading social media users to express their further disgust at Paul's actions and urging YouTube to remove all of the famous vlogger's content.
Elite Daily reached out to Paul's team for comment but did not heard back by the time of publication.
The scandal started when Paul released his 15-minute long YouTube video on Tuesday, Jan. 2, which showed him and his friends discovering a body in Japan's famous "suicide forest," according to the BBC. Upon discovery of the body, he and his friends reportedly began cracking jokes. The video, which has since been deleted, saw enormous backlash, and Paul later posted an apology video via Youtube.
Paul also posted a full apology via Twitter. He said,
This is a first for me. I've never faced criticism like this before, because I've never made a mistake like this before. I'm surrounded by good people and believe I make good decisions, but I'm still a human being. I can be wrong. I didn't do it for views. I get views. I did it because I thought I could make a positive ripple on the internet, not cause a monsoon of negativity. That's never the intention. I intended to raise awareness for suicide and suicide prevention and while I thought 'if this video saves just ONE life, it'll be worth it,' I was misguided by shock and awe, as portrayed in the video. I still am.
However, apologies can only go so far.
And they absolutely can't work when profit is made from them. After it was revealed that the video was monetized, Twitter went on to boycott Paul's YouTube video to ensure the vlogger would make no profit.
The reports that the video is monetized clearly raised questions about Paul's supposed intention of spreading and raising suicide awareness and prevention.
So far, Paul has made no comment at the criticism facing the monetized video. He tweeted on Jan. 3 that he was "taking time to reflect, no vlog for now, see you soon." Clearly, there's plenty of people who won't be waiting.
Of course, if Paul is serious about spreading anti-suicide awareness, he can take inspiration from the sign at the entrance of the Aokigahara Forest itself, which reads in Japanese, "Quietly think once more about your parents, siblings or children, please don't suffer alone, and first reach out."
So instead of posting a YouTube video (and maybe profiting from it), instead, take this social media user's approach in spreading anti-suicide awareness — make yourself open.
It's something we all can do.
If you or someone you know may be at risk for suicide, you can call the Trevor Project's 24/7 Trevor Lifeline at 866-488-7386 or the National Suicide Prevention Lifeline at 800-273-8255.