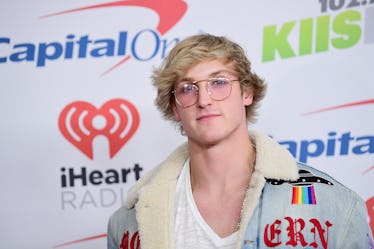 Logan Paul Posted Footage Of An Apparent Suicide Victim & People Are Outraged
Emma McIntyre/Getty Images Entertainment/Getty Images
As 2018 rolls in, celebrities and influencers are posting on social media about their highlights of 2017, along with their New Year's resolutions for 2018. Unfortunately, not everyone is starting off the year on a high note. One YouTuber is currently facing outrage on Twitter for filming the dead body of an apparent suicide victim in Japan. Tweets about Logan Paul's suicide forest video express anger and disappointment in the 22-year-old vlogger.
Elite Daily reached out to Logan Paul's team for comment but has not heard back by the time of publication.
Paul, who posts daily vlogs on YouTube, recently posted a vlog featuring himself and his friends in the Aokigahara Forest in Japan. According to Twitter, the vlog — which has since been deleted — was titled, "We found a dead body in the Japanese Suicide Forest..." Footage from the group's trip to the forest appeared to show an apparent suicide victim hanging from a tree.
The Aokigahara Forest is part of Mount Fuji, and is known as one of the world's most popular suicide sites. According to Atlas Obscura, the forest contains signs urging those planning to commit suicide to think of their families or consult with police before carrying out any actions.
After facing backlash for the insensitive nature of the vlog, Paul released an apology on his Twitter. "Let's start with this — I'm sorry," the apology begins. "This is a first for me. I've never faced criticism like this before, because I've never made a mistake like this before. I'm surrounded by good people and believe I make good decisions, but I'm still a human being. I can be wrong."
Paul goes on to state that he intended to raise awareness for suicide and suicide prevention, but that he was "misguided by shock and awe." He also promises his fans and critics that something like this "won't happen again."
Paul also released an apology video on Tuesday, Jan. 2, where he says "I want to apologize to the internet. I want to apologize to anyone who's seen the video. I want to apologize to anyone who has been affected or touched by mental illness, or depression, or suicide. But most importantly, I want to apologize to the victim and his family. To my fans who are defending my actions, please don't. They do not deserve to be defended."
An edited clip of the vlog (which does not contain footage of the body) has been circulating online. In the clip, Paul and his friends are seen laughing upon their discovery. After exiting the forest, Paul pulls out a bottle of sake and states, "I ain't gonna be sober for this sh*t." He later clarifies that he is not laughing at suicide or at the victim, stating, "Me smiling and laughing is not a portrayal of how I feel about the circumstances. Everyone copes with shit differently."
At the end of the clip, Paul warns two people — one of whom appears to be a child — "Don't go over there," and appears to point in the direction of the body, while continuing to smile.
Twitter has not been quick to forgive Paul or accept his apology. A number of users have written the YouTube star to express disgust over his actions.
A number of prominent Internet personalities have commented on the situation, including Anna Akana. Akana, who has been open on her YouTube channel about her sister's suicide and the effects it has had on her and her family, criticized Paul, stating, "You do not walk into a suicide forest with a camera and claim mental health awareness."
Actor Aaron Paul (no relation) also tweeted about the video, telling Paul to "rot in hell."
Some of Paul's supporters have rushed to his defense and insinuated that those who are outraged are overreacting.
One user shared a different clip from the vlog, in which Paul states that he and his friends intended to focus on the haunted aspects of the forest. He also states, "Suicide, mental illnesses, depression — these are very real things. There are people that love you guys. There are people that care about you. Suicide is not the answer."
Social media analytics website SocialBlade features a live subscriber count for YouTubers. Twitter user @mr_goblins948 pointed out that Paul is losing subscribers. Paul had approximately 15,274,000 subscribers at the time the tweet was posted. On the morning of Jan. 2, Paul had 15,269,742 subscribers.
Check out the entire Gen Why series and other videos on Facebook and the Bustle app across Apple TV, Roku, and Amazon Fire TV.