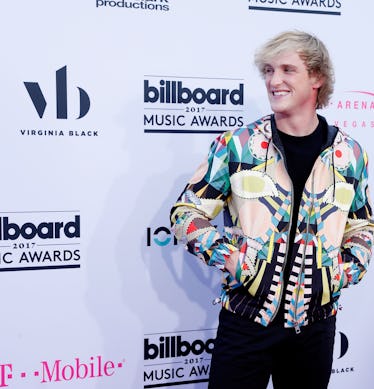 Logan Paul Is Back On YouTube, & His New Video Is Very Different
Isaac Brekken/Getty Images Entertainment/Getty Images
Yes, it's true. As of Jan. 24th Logan Paul has a new YouTube video, but the infamous vlogger's latest video isn't quite what any of us expected. His new project "Suicide: Be Here Tomorrow" introduced Paul to the realities of suicide, and he took a front seat to hear the stories.
Logan announced his latest video via Twitter, where he tweeted the link after having not been active on social media since Jan. 3. As of 4 p.m ET it has reached almost 500,000 views.
The video from start to finish aims to open viewers' eyes to both the facts and stories of suicide. One of those stories is Kevin Hines, who in Sep. of 2000 attempted suicide by leaping off of the Golden Gate Bridge. Hines detailed his experience in Paul's video, describing his feelings of despair before the attempt and then his desire to live after he jumped. Other suicide prevention advocates such as Bob Forrest and Dr. John Draper made an appearance, sitting down with Paul to discuss the serious reality of suicide and how it needs to be addressed.
Paul shared a five-step process in how to support someone struggling with suicidal thoughts, and how to help prevent suicide. Paul also detailed his journey in learning about how he personally can help prevent this serious issue plaguing society.
The video is as both a PSA for suicide prevention as well as an inside look into Paul's journey in learning about the subject. He sat down with Bob Forrest, founder of Alo House Recovery Center, and opened up about his lack of knowledge and exposure towards suicide.
Paul also spoke with Dr. John Draper, director of the National Suicide Prevention Lifeline. Draper discussed the importance of changing the conversation surrounding suicide, and the importance of always reaching out if you or someone you know feels alone. It's through Dr. John Draper that Paul met suicide survivor Kevin Hines. Hines spoke to Paul about his personal story with suicide and how his surviving has impacted his desire to live.
At the end of the video Paul talked about how he will do his part in addressing this issue, including by donating $1 million to a number of suicide prevention organizations.
Paul said,
From this point on I want to make an effort to contribute and immerse myself in the conversation so I'm pledging to donate $1 million to various suicide prevention organizations with the first $250,000 going immediately to the National Suicide Prevention Lifeline so they can increase their capacity to help those in need. For anyone watching I want you to know you are not alone, and most of the time crisis passes. So if you or anyone you know feels alone or trapped I encourage anyone to call or text the suicide or crisis hotline.
Paul also stated that it's time to start a "new chapter" in his life concerning the conversation surrounding suicide.
Paul met immense backlash after uploading his Dec. 31, 2017 video, titled "We found a dead body in the Japanese Suicide Forest..." The video showed him and his friends finding a body in Japan's Aokigahara Forest, commonly known as the "Suicide Forest," and allegedly making jokes upon the discovery. Paul removed the video from his page and then posted an apology video on Jan. 2 expressing his remorse. However, when people found out that the apology video was reportedly monetized and Paul reportedly earned money from his apology, the backlash continued.
Since, YouTube has cut ties with the vlogger by removing him off its Google Preferred ad platform. The company has also ceased production on his upcoming YouTube red movie The Thinning: New World Order.
Despite all the controversy over the past few weeks, perhaps we can all take Paul's approach and learn how to do our part in helping support all of those around us.
If you or someone you know may be at risk for suicide, you can call the Trevor Project's 24/7 Trevor Lifeline at 866-488-7386 or the National Suicide Prevention Lifeline at 800-273-8255.