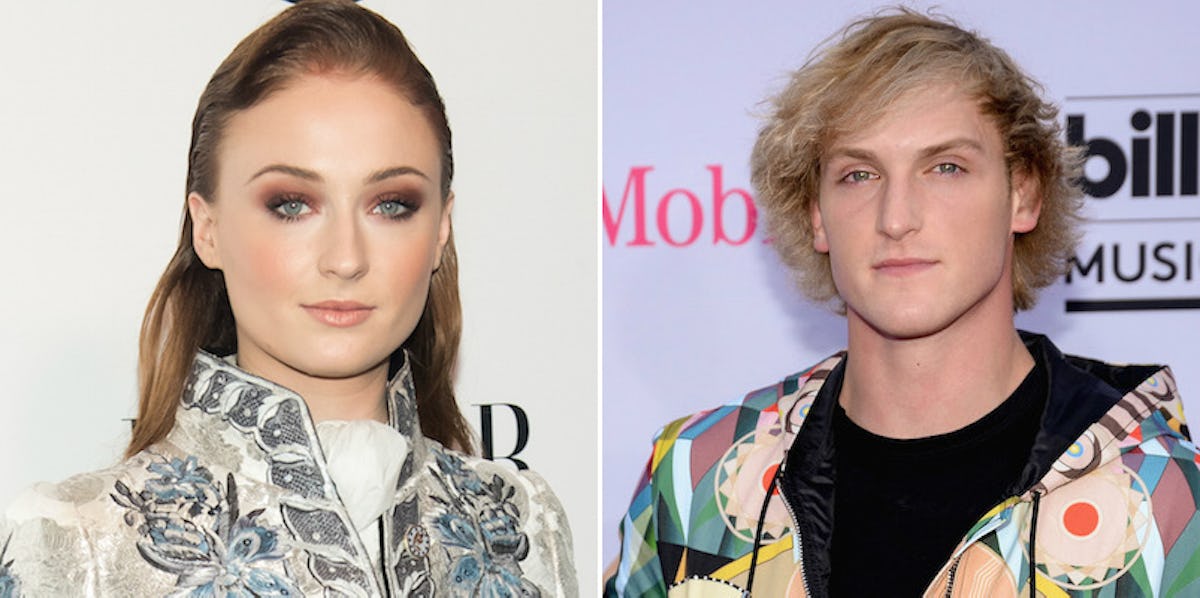 Sophie Turner Calls Out YouTuber Who Posted Video Of Dead Body: "You're An Idiot"
Noam Galai/Tara Ziemba/Getty Images
This Sunday, Dec. 31, YouTuber Logan Paul posted a video of him and his friends in a place known as "Suicide Forest" in Japan. The video showed Paul and his friends laughing as they look at the body of a man who had apparently committed suicide. Many have spoken out condemning Paul's actions. One of the latest celebrities to speak out against Paul and the since-deleted video is a Game of Thrones star.
Sophie Turner responded to Logan Paul's suicide forest video, calling him an "idiot." Paul, who was a popular Vine user before the app was shut down, is now a YouTube star who posts 15-minute videos on the site every day. YouTube made an official statement on Tuesday, Jan. 2, but the site did not do anything to remove the video or provide some kind of viewer discretion warning before Paul took it down. Elite Daily reached out to Paul's team for comment, but did not hear back by time of publication.
The video took place in the Aokigahara forest in Japan, which has come to be known as the "Suicide Forest" over the last decade due to the number of people who have taken their lives in it. It's located at the base of Mount Fuji. In the video, Paul laughs and at one point says, "Yo, are you alive?" to the dead man's body. Paul has received mounds of criticism following the video, and there are people asking that YouTube removes his channel because of it. Paul posted an apology on Twitter, but many, like Turner, think the apology was half-baked.
Sophie Turner's response to Logan Paul was tweeted on Monday, Jan 1. It said, "You're an idiot. You're not raising awareness. You're mocking. I can't believe how self-praising your 'apology' is. You don't deserve the success (views) you have. I pray to God you never have to experience anything like that man did."
In Paul's apology from Monday, Jan. 1, he said "I didn't do it for the views. I get views." In the video, he notes that suicide and depression are not a joke and that his laughing in the video wasn't his response to the man's circumstances. He said it was a coping mechanism. More of his apology said, "I was misguided by shock and awe, as portrayed in the video. I still am."
Paul also posted another apology video on Twitter on Tuesday, Jan. 2.
He said, "I want to apologize to the internet. I want to apologize to anyone who's seen the video. I want to apologize to anyone who has been affected or touched by mental illness, or depression, or suicide. But most importantly, I want to apologize to the victim and his family. To my fans who are defending my actions, please don't. They do not deserve to be defended."
YouTube's response to Logan Paul's video came on Tuesday, Jan. 2.
It reads,
Our hearts go out to the family of the person featured in the video. YouTube prohibits violent or gory content posted in a shocking, sensational or disrespectful manner. If a video is graphic, it can only remain on the site when supported by appropriate educational or documentary information and in some cases it will be age-gated. We partner with safety groups such as the National Suicide Prevention Lifeline to provide educational resources that are incorporated in our YouTube Safety Center.
Many celebrities and influencers have called Paul out for the video, saying there was no excuse to post it and that his apology isn't enough.
Many Twitter users in general are calling on YouTube to ban Paul from the site so he can no longer cause harm through his platform of 15 million subscribers.
Logan Paul's YouTube channel was still active as of Jan. 2.