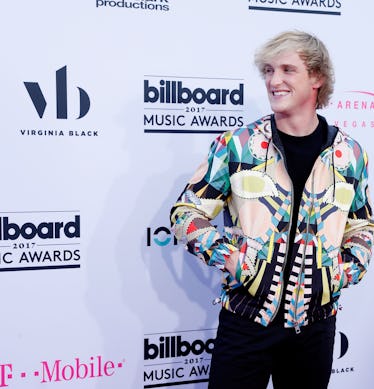 Logan Paul Posts A Message For Fans After Suicide Forest Video Backlash
Isaac Brekken/Getty Images Entertainment/Getty Images
If you're super active on social media, or if you're an avid YouTube fan, you've probably heard about the blonde, adventure-seeking internet star named Logan Paul. Although his fans consider him to be totally goofy, entertaining, and fun, the internet star recently lost all respect from fans worldwide after posting a video of a dead body in an insensitive manner. In response to his fans' (rightfully) disappointed reactions, Logan Paul has stopped posting YouTube Vlogs, and we're wondering if he'll ever make a comeback.
On Sunday, Dec. 31, Paul's 15.5 million YouTube fans were stunned — and rightfully disturbed — when he ventured into Japan's Aokigahara forest, also known as Japan's "suicide forest" off Mount Fuji. Paul thoughtlessly filmed a dead body his team stumbled upon, showcasing it to the camera and his millions of young YouTube viewers. The video was reportedly called "We found a dead body in the Japanese Suicide Forest..." and has since been deleted. According to CNN, 100 people attempted suicide between 2013 and 2015, and fans found his reaction to be disgusting and beyond inconsiderate. Upon finding the corpse of an apparent suicide victim, Paul laughs and looks into the camera, exclaiming in disbelief,
Did we just find a dead person in the suicide forest? This was supposed to be a fun vlog!
Yikes. Apparently, the camera then proceeds to zoom into the dead body hanging from a tree, where Paul smiles and giggles.
Soon after realizing he made a mistake posting the video, he deleted it from YouTube. As expected, Paul's fans took to Twitter to express their disappointment, and the incident gained a lot of necessary and furious reactions. Before Paul's indefinite hiatus, he crafted two Twitter apologies. Paul started off with a longwinded text apology on Jan. 1, where he claims to have "intended to raise suicide awareness with the video," and says that he easily gets caught up in the moment, without weighing in on ramifications. Which is like... uh, OK, I guess?
Since fans were still understandably disappointed with Paul's actions, and as his incident gained more and more negative attention from the media, he proceeded to make a second apology on Jan. 2. In a video he posted on Twitter, Paul apologizes to his to fans, to those who viewed the video, and to those affected by suicide. He said,
I want to apologize to the internet. I want to apologize to anyone who's seen the video. I want to apologize to anyone who has been affected or touched by mental illness, or depression, or suicide. But most importantly, I want to apologize to the victim and his family. To my fans who are defending my actions, please don't. They do not deserve to be defended.
Although Paul's video apology seemed more personal and somewhat legitimate, fans and the media were still incredibly disappointed with Paul's reaction to the suicide. On Jan. 3, Paul proceeded to announce an indefinite hiatus from his daily vlogging, and honestly, it was probably the safest and best course of action for him.
Elite Daily reached out to Paul's team to inquire about his decision, but has not heard back by the time of publication.
Many of his fans are still super unhappy with him, and we're wondering how — and if — he'll end up ever making a return to YouTube stardom. While he made a mistake and clearly feels remorse, we're still honestly not sure how we're feeling about all of it — but only time will tell.
Check out the entire Gen Why series and other videos on Facebook and the Bustle app across Apple TV, Roku, and Amazon Fire TV.