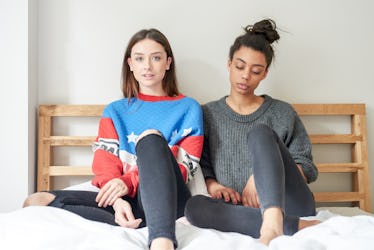 Here's How Cold Weather Can Affect Your Love Life, According To Experts
When the sun sets at 4 p.m. and you can't even run to grab your mail without wearing nine layers — it can be hard to keep it #goodvibesonly in the peak of winter, even if your New Year's Resolution was to have a positive attitude. If you can sense a pretty notable difference in your mood, activity level, or even appetite in the in winter, it's natural to wonder, how does cold weather affect your love life? From wanting to go out less to never wanting to take your sweats off, there are many signs the cold may be affecting your love life, regardless of your romantic status.
"Each year during the winter season millions of Americans experience the winter blues or winter "blahs" — feelings of irritability, sadness, lack of energy, lack of motivation and general feeling of slowness, Dr. Joshua Klapow, Ph.D. Clinical Psychologist and Host of The Kurre and Klapow Show, tells Elite Daily. "They can have a significant impact on your love life, your libido, your overall desire to be intimate physically as well as emotionally."
According to Dr. Klapow and other experts, the winter blues can hit singles and couples a like, and can come in many forms.