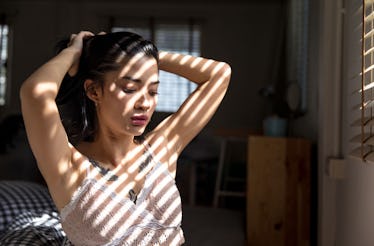 If Anxiety Is Keeping You Up At Night, Experts Say These 11 Things Can Help You Sleep
You know that whole "what came first — the chicken or the egg," debacle? Well, anxiety and sleep deprivation share a similar relationship. On the one hand, someone with anxiety, who constantly has a train of thoughts traveling through their mind, might find it difficult to fall asleep at night from the get-go. On the other hand, someone who struggles to get a full six to eight hours worth of shut-eye might develop anxiety as a result of that struggle. It's a double negative for sure, but there are ways to sleep through the night with anxiety; you just have experiment for a little while in order to find the right method for you. But, if it's any consolation, you can definitely cross counting sheep off your list. That sh*t never works the way it does in nursery rhymes.
In order to tackle a lack of sleep that's caused by anxiety, you have to understand where that anxiety is coming from in the first place. Dr. Michel Mennesson, M.D., a psychiatrist at Newport Academy, explains that, first and foremost, anxiety is fear-based thinking, and that built-up fear can translate to a signal of danger to both the mind and the body. "During survival times, fear protected us from real danger and kept us awake," Dr. Mennesson tells Elite Daily. And even though these fear-based reactions aren't as vital to your everyday survival today as they were to your ancestors way back when, "they have the same effect of arousing our nervous system, making it hard to fall asleep," Mennesson says.
The first step in overcoming anxiety when it presents itself before bed, Robert Glatter, M.D., an assistant professor of emergency medicine at Lenox Hill Hospital, Northwell Health, tells Elite Daily, is to simply acknowledge that you're struggling. As per the Anxiety and Depression Association of America (ADAA), anxiety disorders are the most common mental illnesses in the United States, and affect roughly 40 million adults ages 18 and older each year. According to Glatter, not only can anxiety affect how much you sleep and how frequently you wake up in the middle of the night, it can also affect the quality and duration of sleep as well. "The very task of getting to sleep may be the hardest part of overcoming the anxiety of sleep," he adds.
So where do you go from here? Mental health counselor Dr. Danielle Forshee, LLC tells Elite Daily that, once you become fixated on the inability to sleep as a result of anxiety, that in itself can turn into a vicious cycle, too, because it's just another worry to tack onto the rest. One solution, Forshee suggests, is to try switching rooms for a little while if a change of scenery is required. Additionally, she explains, try to work on associating your sleep space with sleep not work, or exercise, or anything that might potentially be stressing you out.
There are countless ways to fall asleep and stay asleep through the night, even if you're battling anxiety in bed. Give Forshee's recommendations a try, as well as the following expert-approved tips.