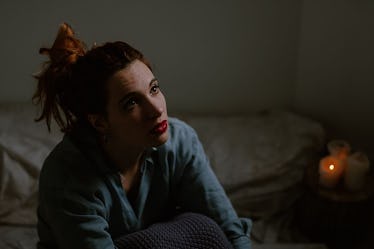 These Hacks Will Help You Fall Back Asleep If You Wake Up In The Middle Of The Night
You know, millennials get a lot of crap for staying up late, mostly because we're admittedly scrolling through social media or watching one too many Netflix episodes. TBH though, it's not really that uncommon for anyone to toss and turn in the middle of the night. I'm not saying it's right or healthy in any way; I'm just pointing out that everyone struggles with sleep sometimes, so it's important that we figure out how to fall back asleep at night in the worst case scenario. Shutting off our devices an hour or two before bed is one way to do it, but there are a ton of other foolproof hacks out there that actually have some pretty legit scientific evidence to back them up. And no, counting sheep is not one of them.
Before I get into the nitty-gritty, it's worth mentioning that, waking up in the middle of the night doesn't necessarily mean you're an insomniac. There are plenty of reasons why you might wake up mid-slumber, such as stress, the dire need to pee, body and room temperature, or even the sound of a notification coming from your smartphone, to name a few. But, according to Chris Brantner, certified sleep science coach and founder of SleepZoo, it could also just be a case of genetics.
Rewind it back to the caveman era, and you can bet our ancestors weren't worried about waking up once or twice in the middle of the night. Brantner tells Elite Daily that humans are naturally "biphasic," meaning our circadian rhythm works according to two periods of sleep commonly split up "with a period of wakefulness" in the middle of the night.
"Research shows that the optimal amount of sleep for an adult is seven to eight hours, much less than the amount of darkness we experience at night," Brantner explains, and this period of wakefulness was considered a "time of calmness." In other words, our ancestors weren't freaking out that they'd be tired for a business meeting or an 8 a.m. class. In fact, Brantner says they probably used that time wisely by "praying, reading by candlelight, or even having sex." Now there's something we could learn from our distant relatives.
I get it, though. Sleep is necessary to function, and if we don't clock in the recommended six to eight hours at least, the entire day ahead could be a wash. That being said, here are a few hacks to get you to fall back asleep if you wake up in the middle of the night and can't sacrifice a decent amount of shut-eye for anything (even some sexy time with the SO — sorry, boo).