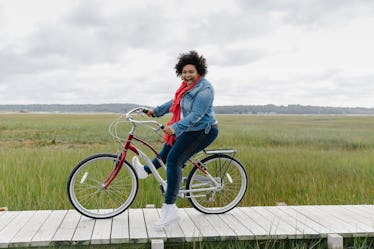 The Cold Weather Can Do These 5 Weird Things To Your Body, So Bundle Up
When it comes to the fall and winter seasons, one thing is certain: The cold weather can make you feel really, really, really cold. Yes, that sounds silly and obvious, but really, the drop in temperature, and the chill you feel as a result, can affect you in ways you'd probably never expect. In fact, there are some really weird ways cold weather affects the body, and while some of them are annoying, others are, surprisingly enough, kind of great.
Regardless of the season or the weather report, your body wants to maintain a constant temperature, right? Somewhere around 98.6 degrees Fahrenheit? Well, according to Robert Kenefick, Ph.D., a research physiologist at the U.S. Army Research Institute of Environmental Medicine, when the temperature drops during the much-dreaded shift to winter, these things called thermoreceptors in your skin alert your brain — specifically, Kenefick told Business Insider, a part of your brain called the hypothalamus, which works to maintain your body temperature, among other functions. So even though the cold weather tries to steal your energy and bum you out as soon as you step outside and get slapped in the face with a gust of wind, your body is constantly working to combat the chill and help you stay warm and happy.
Below, experts reveal some of the other, rather unusual ways in which your body does its thing to stay warm and cozy in the winter.