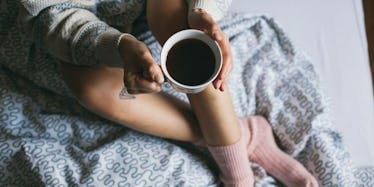 Treat Yourself To These 8 Cozy Things When It's Just Too Dang Cold Outside
I have a confession: I hate snow. And if I'm being completely honest, I hate all things winter. If I had it my way, I would brown bear it up and hibernate until spring. But, alas, I have been cursed with the human condition and thus cannot retreat into a cave for months at a time. Instead, I indulge in a bunch of cozy things to do on a cold day to remind myself to look on the bright side, and to make the best of the chilly weather with snug, relaxing, nostalgic winter pastimes.
Maybe you're like me and low-key despise the chilly weather. Or perhaps you can't get enough of winter and crave the sight of snowflakes gently settling on windowsills all year long. Either way, you really can't go wrong by indulging in all the cozy things on those days when it's just way too cold to leave the house.
Whether you're sipping on a cup of decadent, fudge-y, lusciously warm hot chocolate, or you're curling up under the fuzziest blanket and losing yourself in an amazing book, there's no denying that relaxation is the name of the game on frigid winter days. So, as those days settle upon us, here are eight cozy things to do that will warm your mind, body, and soul.