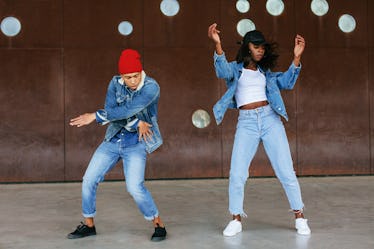 14 Date Ideas For Music Lovers That Don't Include An Acoustic Cover of "Wonderwall"
OK, this may be a "me-thing," but I will Iron Maiden-style Run To The Hills when I see a straight cis man with an acoustic guitar. If they are shirtless, I will jump in the nearest body of water. I play music, I love music, and I do look for creative compatibility within a partnership, but send me overboard if some scrub suggests we go to a concert or "jam" on our first date. If you're into those ideas by all means, have at it! Don't let my cynical personal preferences keep ya down. But if you're in the market for some date ideas for music lovers that don't involve watching your potential boo play Jack Johnson covers, look no further.
If you play music, work in "the industry" (lol), or just love to rock, it may be important for you to date someone with similar interests. Of course, you don't always need to match your boo, and dating someone who can support you and your passions can be just as fulfilling as dating someone who shares your skillset.
These creative date ideas are sure to crescendo the heat for music lovers and people lovers alike.