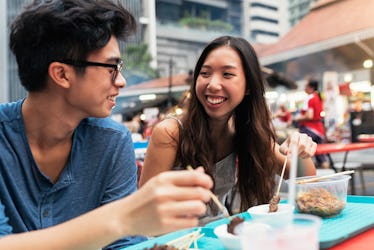 21 Questions To Ask On A First Date That Will Reveal Their Most Authentic Self
For me, there is nothing worse than, "So, what kind of music do you like?" on a first date. Someone who doesn't know me asking me to list off what I'm "into" feels less like genuine interest in me and my passions, and more of a "cool club" audition. There are many personality questions to ask on a first date that can't be answered with pre-rehearsed lists. First dates are nerve-racking! What to wear? Where to go? What to order? In addition to all of these questions, I don't want to also have to worry about which Hypebeast Rappers I should namedrop in order to seem cool.
A question as simple as rephrasing, "What kind of music do you like?" into "Any new music out that you're excited about?" allows you to see how animated your date gets when talking about the things that they love. You are amazing as you, and though it may seem intimidating — a first date is an opportunity to be yourself and let your personality shine.
Here are 21 questions to ask your date that can give you a glimpse into your potential boo's truest self.