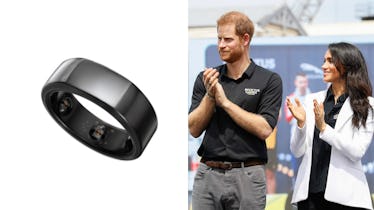 Here's Where To Buy Prince Harry's Oura Ring If You're Digging His Healthy Accessory
Prince Harry and Meghan Markle's itinerary is so chaotic these days, organizing my own work-life balance feels like a piece of cake in comparison. To keep a close eye on how his physical health is holding up through everything, though, the Duke of Sussex has been spotted wearing a subtle sleep and fitness tracker. If the tech gadget has piqued your interest, you can buy Prince Harry's Oura Ring online to check out what this multipurpose accessory really has to offer. And even if you just want to check out the ring so you can be #twinning with a royal, hey, who am I to judge?
TBH, though, it is pretty genius for Prince Harry to use this type of wearable tech in order to make sure he's getting enough snooze time over the next few weeks, seeing as how the Duke and Duchess of Sussex touched down in Sydney, Australia for their first overseas tour on Oct. 16. Plus, this grand excursion kicked off not even 24 hours after announcing her royal highness, Meghan Markle, is expecting, which means the newlyweds are traveling across the entire continent in 16 days, and they're planning for a little bundle of joy. All things considered, if you ask me, it's a miracle that these two lovebirds get any shut-eye at all.
The black band on Prince Harry's right ring finger sparked a decent amount of speculation over the past few days, but that's mostly due to the fact that attentive fans noticed the Duke had slipped it on just hours after announcing his new daddy-to-be status. It turns out, though, that the ring isn't a symbol of celebration of any kind. Because news travels fast, and curious minds need to know the significance of anything the royals do, PEOPLE exclusively reported on Oct. 17 (less than 24 hours of him wearing the damn thing) that this was no ordinary piece of jewelry: Prince Harry's been wearing an Oura Ring, aka a sleep and activity tracker that sends data to your smartphone, and offers insights on how you're sleeping, as well as how you can improve your overall bedtime behaviors.
It's no secret that Prince Harry is the kind of man who appreciates a fine piece of jewelry. Unlike his brother, Prince William (aka the Duke of Cambridge), Harry dons his wedding band proudly, and he and Markle even wore matching beaded bracelets while they were dating (swoon). But I guess, since the 34-year-old royal seemingly only wears accessories that hold a special meaning, it makes sense why the new titanium band would raise an eyebrow or two.
The thing is, health tracking bracelets are cool, but they can be clunky. For someone like Prince Harry, who has to present himself in a professional manner at all times, the Oura Ring yields the best of both worlds. Currently, the ring is available for purchase at OuraRing.com, and retails between $299 and $999. Log on to the brand's website, choose between either the Balance or Heritage models (Harry's is the Heritage style, BTW), find which color you like best, and choose your ring size. From there, the band is shipped to your door, and once you slip it onto your finger, you can connect the device to your smartphone via the Oura app.
What's especially awesome about this little piece of wearable tech is that the ring's advanced sensors collect data based on your body's chemistry and detection of movement throughout the day. In other words, the more you wear the ring, the more information it picks up, such as your sleep quality, sleep stages, how well your body recovers through the night, and more.
The Oura Ring may not hold any sentimental value (yet), but it's obviously significant enough to the Prince that he seems to have been wearing it every day since the beginning of his Australian tour. Personally, I've always just naively assumed that royals had people penciling self-care and strict bedtimes into their schedules. Whether that's true or not, a prince is still a person, and judging by the fact that Markle's beau apparently jumped on her healthy living bandwagon before they were even married, Harry has clearly made adjustments to make his health even more of a priority. A source told E! News back in March that the couple is very serious about leading a healthy lifestyle for themselves. The source told the entertainment outlet,
[Prince Harry] was already in good shape when he met Meghan but the two of them enjoy healthy living together. They eat sensibly, his diet is very clean and ahead of the wedding, he is working out five times a week with a personal trainer.
Meghan doesn't follow as strict an exercise regime but focuses mostly on yoga. She does, however, also go to the gym sometimes.
Keep in mind, the couple's Australian tour isn't exactly a vacation — they're scheduled to make 76 appearances in just over two weeks' time, according to The Sun. So while he can't necessarily hit the gym as often as he wants to, or eat the foods he might like to, it makes sense why Prince Harry would invest in something like the Oura Ring — it's subtle, it looks professional, and it offers him helpful insight on the state of his body, simply by way of opening an app on his phone. He can keep tabs on how well he's resting while in transit, and apply any necessary changes once he and Markle are back home at Kensington Palace. Not to mention, the new bling just looks so good on his royal finger.