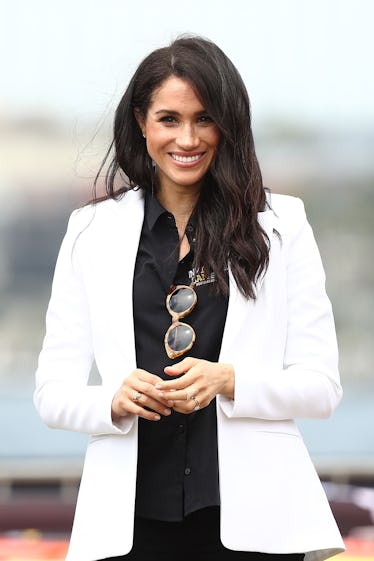 Meghan Markle Skipped A Royal Tour Event, But The Reason Why Makes So Much Sense
Mark Metcalfe/Getty Images Entertainment/Getty Images
You have to hand it to Meghan Markle: She's been making pregnant life look so effortless while on her busy royal tour with Prince Harry, despite the fact that she's in a completely different country and fighting jet lag as well as a full schedule and 4 a.m. yoga sessions. So, I wasn't surprised to hear that Meghan Markle is "resting" on the royal tour and planning to take engagements as they come, which includes missing out on a few previously planned events. Making a baby is hard work, y'all.
On Sunday, Oct. 21, Prince Harry stepped out to a cycling event at the Invictus Games without Markle, who's been his constant companion during the couple's royal tour. While her absence originally concerned fans, the reason that she skipped out on the event is actually totally relatable.
According to tweets from Daily Mail reporter Rebecca English, the journalist explained, "One source tells me it isn't that the duchess is feeling poorly, but they're trying to 'pace' her given how many engagements are coming up." As the Duke and Duchess of Sussex are slated to go to 76 different appearances during the course of their 16-day tour, it makes sense that the mom-to-be is taking it easy and making sure she gets her rest during the trip. Prince Harry himself confirmed the news to outlets that Markle was currently resting because "being pregnant takes its toll," and she's planning to cut back on the number of events she goes to, according to ABC News' Twitter account.
While Markle skipped out on Saturday morning's cycling, she was back at her duchess duties by lunchtime as she attended an afternoon reception hosted by the Australian Prime Minister Scott Morrison. Sporting a serious pregnancy glow and one of her royal tour wardrobe staples, a white blazer, the former Suits star was all smiles as she met with veteran support groups following a didgeridoo performance and luncheon, per Huffington Post.
According to The Daily Mail's Rebecca English, Markle is expected to make minimal appearances during Monday, Oct. 22's planned activities "due to the terrain" of Fraser Island. Per the couple's schedule on Royal.uk, Prince Harry and Markle were scheduled to traipse all over Fraser Island to meet with local elders and explore the area's beaches, bays, and lakes.
One part of the program reads, "Their Royal Highnesses will then travel to Kingfisher Bay by boat, where the visit will conclude with a walk along the picturesque Kingfisher Bay Jetty." Morning sickness and rocky boats don't exactly mix, so I wouldn't be surprised if Prince Harry decides to undertake this part of the day solo.
The rest of the week's appearances, including three days in Fiji and a return flight back to Sydney, are still up in the air. Elite Daily reached out the Royal Palace to inquire about Markle's revised schedule for the royal tour, but didn't hear back by the time of publication.
TBH, this makes me respect the newly-minted duchess even more. She's been a complete trooper during her royal tour, despite the fact that she recently compared her pregnancy to "jet lag" and revealed that she's been attempting to cope with the insomnia of traveling around the world by doing sun salutations at 4 a.m. I mean, how many of us could go through a full two weeks of nonstop travel and appearances while wearing a smile and a pair of heels, let alone while pregnant? You've got to give her kudos.