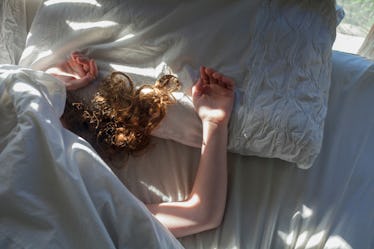 These 6 Red Flags Might Mean You're Not Sleeping Well, So Here's What To Do
Even if you're sleeping the right number of hours, you might not be getting enough rest to fuel your body throughout the day. There are plenty of subtle signs you're not sleeping well, but it's likely that you haven't noticed, since they're, well, subtle. Besides, it can be a full-time job tracking your sleep patterns, and who has time for that?
If you're feeling exhausted all the time, regardless of how much you sleep, then it's time to pay more attention to how you're feeling. When your body doesn't get enough sleep, it starts to shut down in other ways that affect your social and work life.
If you're super tired, the first thing to do is make sure you're getting around seven to nine hours of sleep daily — any less than that, and you're most likely sleep-deprived (and no, sleeping 15 hours on the weekend won't reverse the issue).
But if you're getting enough rest and still feeling off, the problem most likely lies with your REM, or rapid eye movement, sleep. You might be waking yourself up in the deepest stage of your sleep cycle, which can lead to a groggy feeling come morning, or you might not be reaching that deep sleep stage at all.
If you're starting to think your sleep issues might be too big for you to take on alone, it's never a bad idea to ask your doctor what's going on and what treatment might finally help you get the rest you need.
Here are six signs that may mean you're not sleeping as well as you should be.