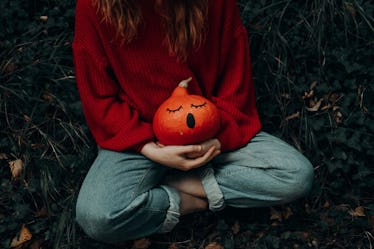 Here's What To Do On Halloween If You Don't Have A Costume, But You're Feeling Festive
Guys, the first day of fall is almost here, and I can barely contain my excitement for the very moment my world, and yours, officially turns autumnal. Call me biased (I am an October baby, after all), but fall is hands-down my favorite season, and while that's mostly due to the endless supply of PSLs and crunchy leaves, it's also because I love all things Halloween. Of course, Halloween looks a little different at 26; I'm not sure I'm even wearing a costume this year. Still, figuring out what to do on Halloween if you don't have a costume isn't as hard as you might think. Besides, let's be real: You're too busy being an adult to actually go out and buy some fantastical outfit. The truth is, trick-or-treating is really for the kiddos, and especially if you don't have a party invite or your office isn't super festive, the point of dressing up becomes kind of moot. Keep in mind, though, just because you couldn't think of a clever costume or chose to opt out of the tradition, that doesn't mean your celebration has to be boring.
For me, 2017 was the first year I didn't dress up for Halloween, and unless someone's planning an epic rager for Halloweekend 2018, I'm pretty sure this will be the second consecutive year I pose as myself. See, once you graduate from college, making plans for Halloween gets complicated: The holiday typically falls on a weekday, not every office encourages employees to dress up, and not for nothing, but unless you're super crafty and can pull something together from scratch, Halloween costumes are pricey AF these days. I totally get it, though: Without rubber masks and plastic wands, Halloween loses some of the magic that inspired you as a kid, so how can you save the spark sans wizard robes and fake vampire blood?
Personally, I'm a big fan of movie marathons, and if you ask me, there's really no better time to dust off all of those spooky classics. You've purposely been saving these titles in a corner on your shelf for this time of year anyway, right? So make a plan with your squad for either Oct. 31 or the weekend prior to/ following Halloween, pick a location, and set some ground rules: Everyone has to bring a bag of their favorite candy and one movie of their choosing. Come as you are, or better yet, swap costumes for comfy pajamas, display your sugar stash on the coffee table in front of the TV, and indulge. Who needs fancy, overpriced garb when you've got sugar and scary movies?
Not a movie buff? No problem. If you prefer books over motion pictures, Halloween can still be lit sans quirky costumes. Bookworms actually have an advantage IMO, because there are plenty of novels and poetry collections with thrilling plots and creepy themes to make your skin crawl all month long. Stephen King's works, like It, Carrie, and The Shining alone are enough to keep you up at night, while Edgar Allan Poe's The Raven is a timeless narrative that'll have you second-guessing every sound and beat of your heart. Halloween Night by R.L. Stein is also a quick read to get you in the spooky spirit, but if you prefer more of a fantastical take on ghouls and goblins, there's always Harry Potter to keep you entertained.
Or, if you don't feel like staying in on Halloween, over the years I've found that one of the best ways you can sort of reconnect with the nostalgic aspect of Halloween, and remember how it felt to be a child and trick-or-treat again, is to spend the holiday with a child. If you have a niece or nephew, a little brother or sister, or even a younger cousin, take advantage of the time they still have to enjoy Halloween and mooch off their moment (#noshame). Volunteer to take them trick-or-treating, carve pumpkins with them, organize some kind of Halloween crafting session, or, if you really don't have a couple of hours to spare, just take a half-hour to help them do their makeup or hair the night of the holiday. Anything you can do to help get the kiddos ready for Halloween will be sure to transport you back to a time when you were the one slipping into a princess gown or Power Rangers suit.
Of course, not everyone knows a child in their immediate family or social circle, so if that's the case for you, giving out candy is the next best thing. Not only does it have a similar nostalgic effect and provide a ton of inspiration for next year's costume, but there are always leftovers to munch on throughout the following week. Whoever thought being on the other side of the door could be so rewarding?
All in all, Halloween feels don't necessarily stem from itchy material, stuffy masks you really can't breathe through, or caked-on makeup that'll likely cause breakouts the next day anyway. The spirit of All Hallows' Eve is what really counts, so don't feel down or left out of the fun just because you didn't feel like shelling out the cash for a costume this year. Find the magic your way, and enjoy the spook while it lasts.