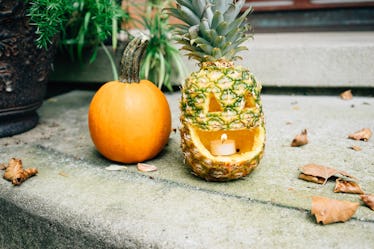 Try Carving These Fruits For Halloween If You're Sick Of Pumpkin Jack-O-Lanterns
Autumn deserves a warm welcome, and in my book that means decorating accordingly... and then some. My apartment might be mistaken for a small pumpkin patch at this point — and I'll admit it looks a bit kitschy — but in the name of the spooky season, I applaud my "go big or go home" mentality. For those (like myself) who need to take their fall style game in another direction, these DIY Halloween carving ideas for non-pumpkin fruits have made quite a splash, so it's time to fetch your carving tools and get going.
In order to not feel completely overwhelmed by the orange sanctuary I've assembled, I've decided to embrace the equally cute and spooktacular pumpkin substitutes — and you should, too. Don't get me wrong, there's nothing wrong with a good pumpkin. However, it's important to spice up and diversify your decor... a lesson I should've taken earlier in the season. I'm pretty confident if my roommate spots one more mini pumpkin hidden in the bookshelves or tucked under the blinds, she will probably throw it at me. Though I've gone overboard and it seems there's no turning back, carving various fruits and veggies before All Hallow's Eve might be my saving grace.
Here's what other people have been carving during the Halloween season — get ready to take notes.
Option 1: A pineapple
Spongebob isn't the only one who's keen on styling a pineapple. This trendy jack-o-lantern option provides a Hawaiian take on Halloween, and your costume party might be mistaken for a luau. Carving a pineapple is similar to carving a pumpkin: remove the stem, get rid of the guts inside (the way your favorite horror villain would), remove unwanted excess, and get ready to carve a funky face. It's time to make Bikini Bottom proud.
Option 2: A squash
The beauty about the butternut squash is the fact that it comes in an odd shape, which gives an alternative to all the circular fruits you've butchered into creepy-looking smileys. When you're in the need of some soup, grab a few extras and give the squash-o-lantern a try for yourself. The squash carving process is similar to that of the pineapple and pumpkin. It requires you to scoop out the insides, cut the top and bottom with a keyhole saw, and carve the face you desire. It looks like a spooky goblin if you ask me.
Option 3: An avocado.
What would this list be without the avocado? The millennial fan favorite has taken the food scene to new levels and delighted us with ample supplies of guac. It's only appropriate to give an avocado the Halloween treatment. You won't actually have to remove the guts for this one, just simply carve out two eyes, an upside down heart-shaped nose, and a square-like mouth. Voila! Pass the chips when you're done.
Option 4: A watermelon.
Here's another way for those fans of summer to keep the season going in the colder months. Chances are you were going to pick up the last of the bunch from the grocery store anyway, so grab an extra and start designing. Carving a watermelon is similar to carving the pumpkin, squash, and pineapple, since you need to take out what's inside. Give it a try and pay homage to your favorite characters in the process. Who doesn't love the Ninja Turtles, anyway?
Option 5: A cantaloupe
Ah, the cantaloupe — a circular fruit that also offers an orange hue (you know, without actually being a pumpkin). The skin of the fruit sports a mummy-like aesthetic, so start researching the best designs and get ready to carve the melon the way you would a watermelon, pineapple, or pumpkin.
There you have it, folks — a new take on Halloween. Might I suggest unleashing your inner Edward Scissorhands while listening to some spooky podcasts and enjoying fall pumpkin snacks? Be careful while you're creating and happy carving.
Check out the entire Gen Why series and other videos on Facebook and the Bustle app across Apple TV, Roku, and Amazon Fire TV.