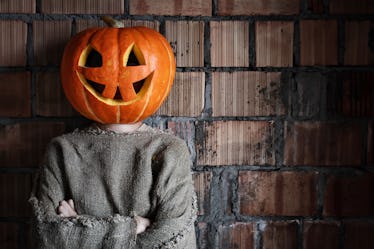 Since Halloween Is On A Tuesday This Year, Here's The Best Time For Spooky Celebrations
I can't speak for everyone but, in my opinion, Friday and Saturday are hands-down the best days for Halloween to land on. Like, say you work from 9 a.m. to 5 p.m. during the week. Chances are you have weekends free, so you can stay out later than you would on any given weekday. Plus, for some psychological reason I can't explain, the holiday just feels more epic when you and your friends can celebrate a) without work responsibilities killing your haunted happy hour buzz and b) on the actual "holidate" Oct. 31. Alas, luck was not on our side this year, and if you weren't already aware, Halloween is on a Tuesday (lame). So, when is Halloweekend 2017 exactly? Personally, I'll be kicking off the festivities on Friday, Oct. 27, and you are more than welcome to join me in my endeavors.
Can I just say that Tuesday is the most awkward day of the week? It's not the beginning of the week, but it's not the middle either, so while you're still trying to get over a case of the Monday blues, the fact that it's Tuesday doesn't really make you feel any better because you're still not even remotely close to the weekend. If Halloween landed on a Wednesday, I'd say ride it out and throw pre- and post-Halloweekend soirées because why not, right? But by the time the Friday after Halloween 2017 rolls around, you're well on your way into the month of November, and TBH, it'll practically be Thanksgiving already (not really I guess, but you get my point).
Besides, everyone knows you can't throw an epic Halloween rager without the good candy.
And the candy situation can be really hit or miss depending on whether you choose to stock up right before or right after Halloween. Before trick-or-treaters come to raid their neighbors' ceramic pumpkins come Oct. 31, it's no secret that procrastinating parents are packing their grocery carts to the brim with candy when they hit the store. But come Nov. 1, even though all of the orange and black variety bags are marked down in price, leftover candy just isn't quite the same.
So, here are your options: On the Friday before Halloween, head to the grocery store early in the morning and load up on all the king-size KitKats, Reese's cups, and full-size candy bars to serve your party guests. Or, on the Friday after Halloween, you can rummage through bottom-of-the-barrel sale items no one else wanted, like stale Tootsie Rolls and bags of candy corn. Your call!
Plus, if New York City is doing it big for Halloween starting Friday, Oct. 27, the rest of the world should, too.
If you're a tri-state area resident or are close enough for a road trip, you're in for some epic Halloween activities courtesy of the Big Apple. City dwellers never let a cause for celebration slip through their fingers, and this year, New York has something for everyone.
Are you and your squad the type to go hard with boozy beverages (pumpkin spice cocktails, anyone?) for All Hallows' Eve? The annual New York City Halloweekend Pub Crawl kicks off in Manhattan on Friday, Oct. 27, at 5 p.m. sharp, with festivities continuing all through the weekend, and even late into Halloween night. Now that's a lot of booze, amirite?
But if hopping (or stumbling) from bar to bar isn't exactly your idea of a good time, The Bronx Zoo hosts Boo at the Zoo every weekend from Sept. 30 through Oct. 29, with a slew of spooky activities you don't want to miss. Event highlights include a haunted forest appropriate for ages 12 and up, a Bootober fest complete with musical entertainment and seasonal brews, hayrides, a mentalism show, and even an extinct animal graveyard for some eerie education.
And for those who like to get a little rowdy on Halloween, Pier 94 is hosting trance music group Above & Beyond for a wild concert on Saturday, Oct. 28. It's not exactly Smashing Pumpkins, but it's a chance to get downright ghoulish because, let's face it, is there anything more terrifying than a mosh pit? Debatable.
All valid arguments aside, at the end of the day, it's your Halloween party, and you can throw it when you want to.
Maybe you like going against the grain, and if you'd prefer to keep the party going post-Halloween, then good for you, Glen Coco! (Whoops, that reference was probably best saved for Christmas. #SorryNotSorry.)
Just make sure all invitees don't trash their costumes come Nov. 1, and maybe instead of half-priced candy, you can experiment with Halloween-inspired mocktails and Instagram-worthy snacks. I'm sure whenever and however you decide to celebrate, Halloweekend 2017 is sure to be epic.