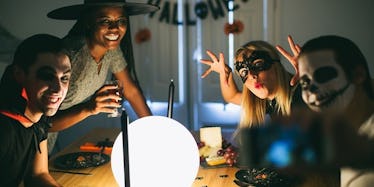 8 Chilling Activities Essential For Every Girl Squad's Halloween Bucket List
Headless horsemen, evil clowns, and revengeful ghosts. Oh my! Halloween is the perfect time of year to embrace all the scary characters that we normally are too afraid of to even think about. When we were kids, this time of year was all about the costumes and the insane amount of candy we'd score. It may still be about that for you, but now, you also enjoy all of the spooky activities that come with All Hallows Eve. If you're looking for something fun and different to do this year, there are a ton of spooky things to do on Halloween with friends. You know you can only make it through the thrills with your BFFs by your side.
Doing scary activities with your best friends can also lead to the most hilarious stories you'll reminisce on for years to come. Also, the thrill is so much fun, because there's nothing like a good scare to give you the best adrenaline rush. If you and your squad know you have each other's backs and are seeking some scary thrills this Halloween, here are eight downright spooky activities you all need to do together.
1. Get Your Thrill On In A Haunted House
This is probably the staple spooky Halloween activity you can do with your squad. Most cities have a haunted house or two that you can visit. Hollywood even recently had a haunted house for the IT movie, where guests could visit the Neibolt Street house. Talk about terrifying.
No matter what house you go to, it will make for a thrilling and chilling time. You and your friends will try to navigate through as creatures jump out and scare the sh*t out of you. They can be super scary at first, but then, you'll probably be laughing uncontrollably because around every corner, you know someone in your squad is going scream.
2. Find Your Way Out Of A Spooky Corn Maze
A corn maze is fun, scary, and a team building activity to bond with your squad. You can find haunted corn mazes that will inevitably chill you to the bone as you're trying to navigate your way out, or you can find a regular corn maze that will make for all the laughs as you get lost inside. Don't worry, you have your main girls to help you out.
3. Ride Through The Night In A Haunted Hayride
Here's another farm-related activity that's spooky AF, in honor of this festive time of year. Have your squad climb aboard a wagon filled with hay, and get ready for a spooky ride in the dark of night. You'll be holding onto each other for dear life, and will obviously snap a ton of cute pictures.
4. Do A Ghost Tour In A Scary Town
If you and your squad live near an old town that has ties to Halloween, you and your girls can take a road trip to visit for the weekend. Places like Salem and Sleepy Hollow are downright perfect destinations for Halloween, and even put on spooky events to celebrate the occasion. You can visit historical landmarks, or even take a ghost tour.
5. Plan A Theme Park Night
Most theme parks have a special Halloween event at night. Universal has Halloween Horror nights, which is always a fun time. You can enjoy the haunted houses, scare zones, the rides, and the attractions of the park. If your squad is looking for something spooky but not so frightening, you can always go to Mickey's Not-So-Scary Halloween Party at Walt Disney World to get your fill.
6. Cuddle Up For A Scary Movie Screening
There are so many Halloween classics we simply can't get enough of, like Hocus Pocus, Casper, and The Addams Family. Find an event in your city that's screening one of the Halloween movies you love. Some even do outdoor movie screenings in a cemetery to add an extra layer of spookiness to the plan.
7. Throw A Murder Mystery Party
Throw a murder mystery party with your squad this Halloween. There's nothing more chilling than this kind of bash. You can have fun playing characters, and investigating each other to find out whodunit.
8. Navigate Your Way Through An Escape Room
An escape room is always a fun idea for you and your squad. You have to work together to solve all the puzzles and win. There are some escape rooms that are already in the Halloween spirit, but you can find some that are especially made for this season.