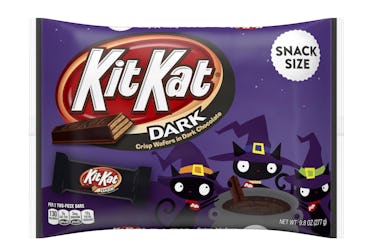 These Halloween-Themed Dark Chocolate Kit Kats Are The Treat You Need This Holiday
Hersey's
Ever since I was little, Kit Kats have been my candy kryptonite. There are few things as deeply satisfying as breaking off a piece and inundating your taste buds with the rich, smooth chocolate flavor paired with the satisfying crunch of the rice wafer. My childhood self would be so jealous that Hershey's new Dark Chocolate Kit Kats for Halloween are now available with festive AF wrapping to help you cater to your inner black Kat. Whether or not you go trick-or-treating this year, you're going to want to make the indulgent upgrade a part of your Halloween snack stash.
I just about lost it when I saw that the Kit Kats you know and crave have gotten a makeover just in time for the spookiest season of the year. While the OG Kit Kat will always reign supreme, recent twists on the classic have definitely turned my head and I have to admit that I'm partial to a Kit Kat covered in velvety coats of dark chocolate. Yes, dark chocolate is supposed to be good for you (not only is it supposed to help relieve period cramps, but it's also purported to aid with brain alertness and your attention span), but I can't get enough of the rich cocoa flavor that boasts just a fraction of the sweetness of its cousin, milk chocolate. In other words, it's all treat, no trick when it comes to the new Halloween designs on Dark Chocolate Kit Kats, per Hershey's.
So, when I saw that Hershey's is now bringing their darkest offering to Halloween town, I knew I was in for quite the treat. As of Wednesday, Aug. 22, Hershey's newest's Halloween Kit Kat is available for a limited time inside a super cool 9.8-ounce snack-size package, which I'm totally obsessed with. Against a moody dark purple background, three black cats (or Kats, if you will) wearing witches' hats on their heads can be seen circling a cauldron and plotting world domination. In this case, I'd assumer they're probably planning how to take over the world — one dark chocolate Kit Kat at a time.
In addition to the spooktastic packaging, I'm a fan of the convenient snack size as well as the price. At just $2.99 per bag, you know I'll be stocking up on these dark chocolate-drenched wafers weeks before Halloween comes around. Plus, if you're more a fan of white chocolate, there's a 10.29-ounce bag of White Chocolate Kit Kats that's also just $2.99, according to Hershey's.
While it does feel a little bit weird to be thinking about Halloween candy when it's still August — and I'm still "allowed" to wear my all-white summer ensembles a little while longer — you might want to start thinking ahead to when the seasons take a more ghoulish turn.
According to Hershey's, these goodies and the company's entire range of Halloween candies, including their Candy Corn and Reese's Peanut Butter Spooky Eyeballs, Pumpkins, and White Ghosts, are only available as long as supplies last. Which means that you should start planning ahead if you want to get any Halloween-adorned treats in your candy bowl before Oct. 31 comes around and you're ready to bring out your dark side.