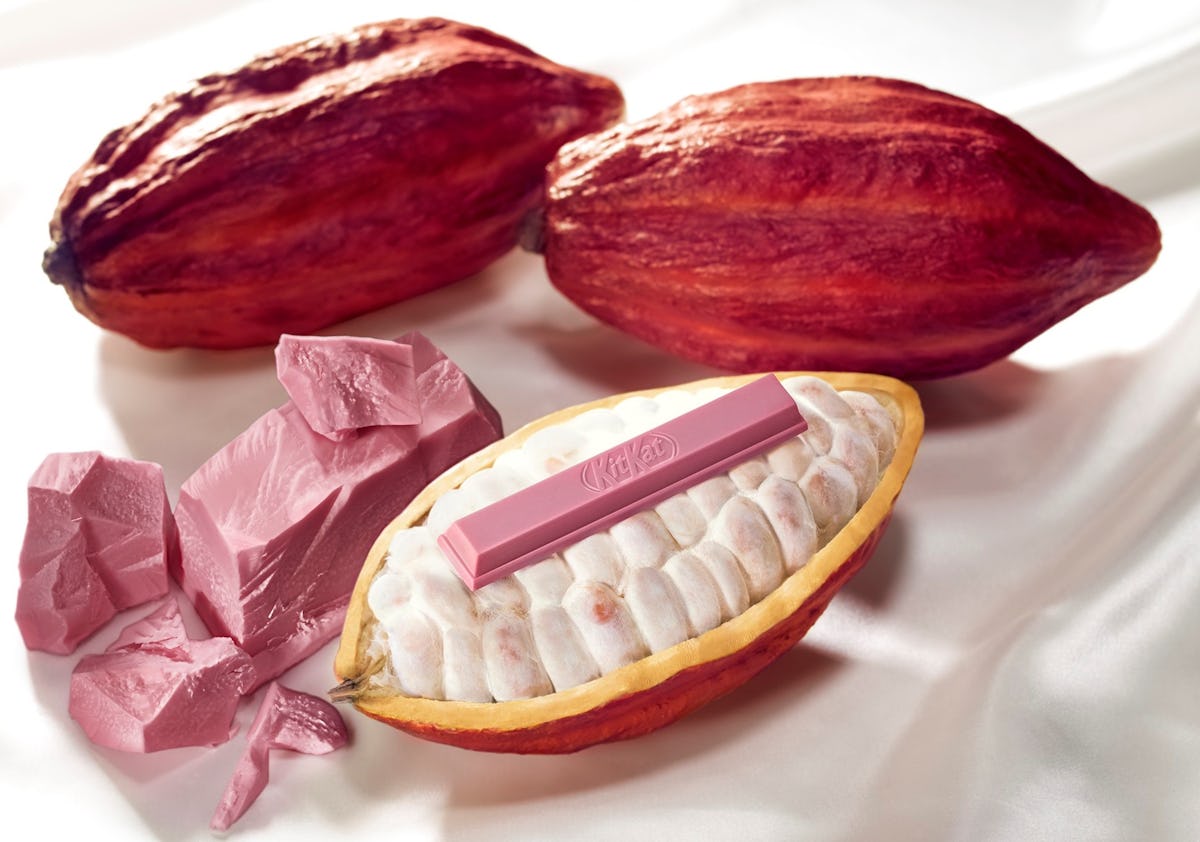 Millennial Pink Kit Kats Exist & You're Going To Be Obsessed With Them
Millennial pink is quite literally the Beyoncé of colors right now. Stores are exploding with several variations of the hue in the form of clothes, makeup, and accessories; it's seriously running the world, girls. If you haven't already heard, your favorite shade of pink has recently taken over the chocolate world and bestowed its greatness upon everyone's favorite candy bar brand: Nestlé. That's right, if you're craving a dainty, light pink version of a delectable and familiar chocolate-coated wafer, I'll tell you where to buy millennial pink Kit Kats.
The new pink go-to candy is officially named the Kit Kat Chocolatory Sublime Ruby, according to a press release. It derives its majestic color and sweet berry taste from the Ruby cocoa bean. You might be thinking you've literally stepped into Willy Wonka's Chocolate Factory, but this is real life. Without any additional colors or flavors, it's the first official product made with Ruby chocolate. In other words, it's the "fourth" kind of chocolate (after milk, dark, and white chocolate). Sublime Ruby was created by Japanese pâtissier, Yasumasa Takagi, in efforts to officially bring together two of our life's true loves: Ruby cacao and Kit Kat. Many thank you's, Takagi.
The Sublime Ruby is limited edition (so like, get your wallets out and ready), and sadly, it's only being made in Japan right now. However, it will be available online (thank the chocolate heavens), as well as in 80 pop-up stores in Japan. It'll also be for sale in all seven KITKAT Chocolatory stores throughout Japan and Korea. (OMG, those need to come to the U.S. ASAP.) The Ruby Sublime was created as a trendy and super adorable Valentine's Day gift, and sales will officially start on Friday, Jan. 19.
Since many of us sadly aren't actually located in Japan or Korea to buy the Ruby Sublime in stores, ordering online is mandatory. To do so, first register your e-mail address on Kit Kat's website, and you'll receive an e-mail with a link. After clicking the link, you can purchase the highly-anticipated Sublime Ruby. According to the site, if you register now, you can expect to hear back in early February, which really isn't too long of a wait... even though I know for a fact all of us are anxiously waiting on the edges of our seats.
Barry Callebaut, the inventor of Ruby Chocolate, describes the pink cocoa as not bitter, milky, or sweet, but a combination of fruity and luscious flavors. Ruby miraculously graced our lives just 80 years following the birth of everyone's Christmastime fave, white chocolate. Its debut officially marks it as the fourth type of chocolate made from cocoa beans. Based on its amazing flavor, we're super happy with the results. After Ruby's official and widely-anticipated unveiling in China on Sept. 5, 2017, people were totally hyped for Ruby to expand its horizons. Now, with the Sublime Ruby Kit Kat, it finally has. Kit Kat fans world wide are hella enthused for Ruby's magic presence, and we couldn't be more excited.
If chocolate somehow isn't your thing, rest assured that millennial pink also just made a shining debut at Chanel. Their new millennial pink cushion compact contains Chanel's Chance Eau Tendre fragrance, and it's totally ideal for any on-the-go scent touch-ups you might need. It includes a soft silicone applicator, and it's beyond cute. Aside from chocolate, it's perfect for any Gen-Y babe who's just looking for a little pink pick-me-up. Millennial pink is definitely our favorite.
Check out the entire Gen Why series and other videos on Facebook and the Bustle app across Apple TV, Roku, and Amazon Fire TV.