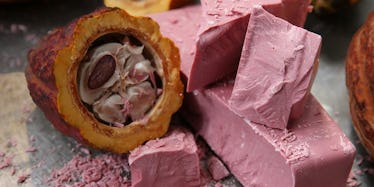 Millennial Pink Chocolate Is Here And You'll Probably Love What It Tastes Like
Barry Callebaut
When it comes to clothing, makeup, and even food, millennial pink is definitely having a moment in the spotlight. All 20-somethings seem to gravitate toward the blush color and cannot get enough of its delicate hue. So naturally, when this fan favorite gets the sweet treatment, everyone starts to wonder, "What does millennial pink chocolate taste like?"
Wonder no more. Barry Callebaut, the leading manufacturer of high-quality chocolate, has introduced foodies to "Ruby", the pink chocolate that's "not bitter, milky or sweet, but a tension between berry-fruitiness and luscious smoothness," according to a press release. The arrival of Ruby marks 80 years since the launch of white chocolate. If Willy Wonka had some millennial friends, they'd certainly love this new creation, and who could blame them?
Ruby — which comes on the heels of milk, dark, and white chocolate — is officially the fourth type of chocolate that's made from cocoa beans across the globe. It's very worldly, much like millennials. Barry Callebaut is working to ensure that all manufacturers will have access to Ruby and at various price points. After the treat was unveiled in China on Sept. 5, the millennial pink craze will surely experience another hype, and rightfully so. Did you catch how beautiful it looks?
To keep your millennial pink infatuation in check until you get your hands on Ruby, there are certainly many other treats that you can enjoy that provide a sweet and trendy option. The newly released Moscato cupcake recipe from Delish not only looks sweet, but its wine-infused frosting and cake batter offer the perfect fizzy, millennial pink bite. Or you can opt for a millennial pink pineapple if you want a healthy option. If you're looking for an alternative before a bit of pink chocolate, all-things pumpkin has taken over, from doughnuts to cookies and everything in between.
Though Ruby has been in development for roughly 10 years, Gen Y certainly can't wait to take a bite. Hungry 20-somethings will be able to get a bar of the good stuff next year, according to Teen Vogue.