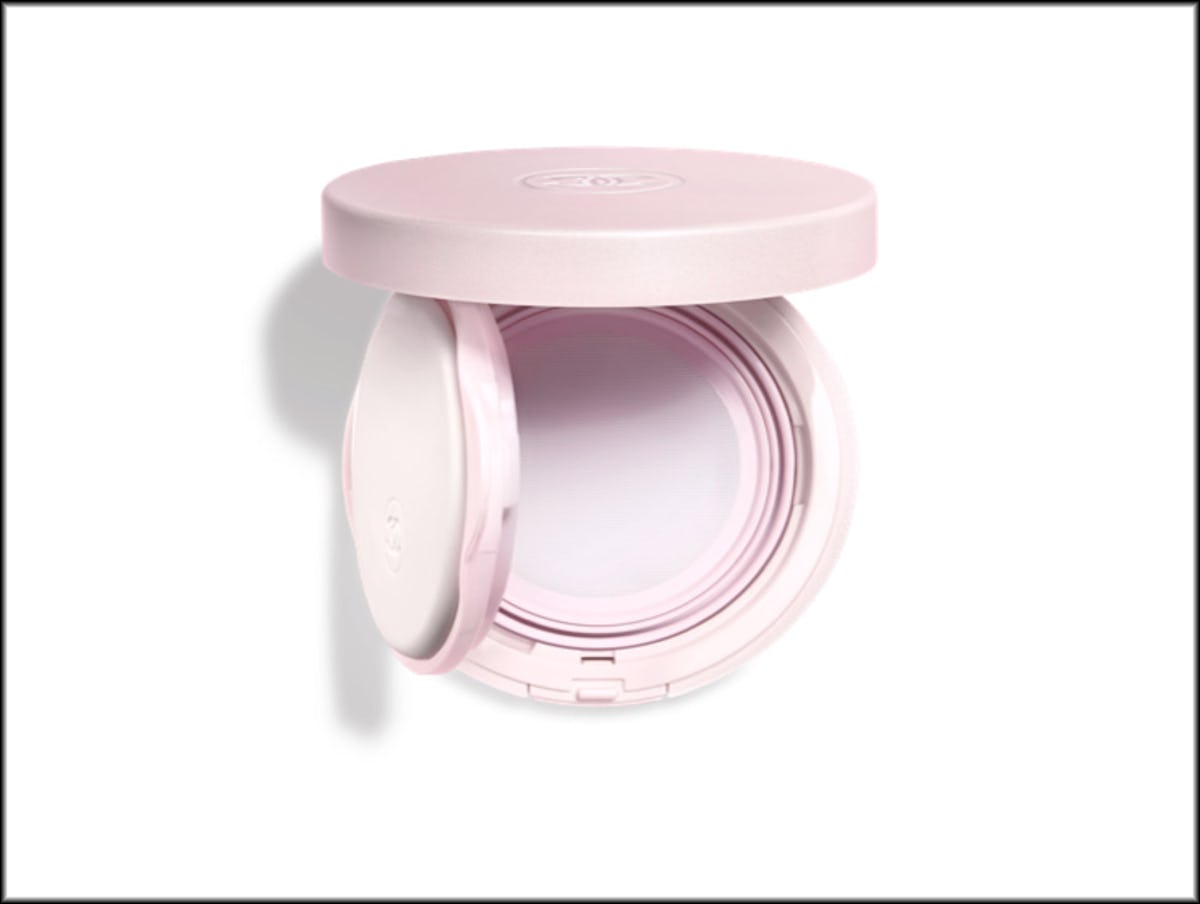 Chanel Just Dropped A Millennial Pink Cushion Compact & You'll Never Guess What's Inside
Chanel
Calling all fans of fragrance, Barbie-eque accessories, and incognito beauty products that look like something they're not. There's a tiny pink disk in town that's about to tickle your fancy...and make you smell really, really good. Chanel's perfume cushion compact is the millennial pink beauty gadget that I never knew I wanted, but now feel that I can't live without. Give me anything small and rosy and emblazoned with a double C and I will love it. Marry it, even.
Upon first glance, the compact looks like, well, a regular foundation compact, or perhaps a holder of blush or some type of setting powder. It's something I could totally see Betty Draper pulling out of her purse, coyly opening, and using to pat powder onto the tip of her nose. In reality, it actually has nothing to do with makeup. Maybe you picked up on its function because of its name, but if you're stumped like I was, let me put your wondering to rest.
The cushion compact contains Chanel's Chance Eau Tendre Fragrance ($70; chanel.com), and is the perfect answer for when you need to apply touch-ups of the scent when you're on the go, but don't want to mess with leaky rollerballs or bulky bottles. (I can't tell you how many times glass fragrance containers have broken in my bag and caused me to reek way too strongly of rose or lilac or what have you for weeks on end.) It includes a soft silicone applicator that you can swipe across your neck, wrists, collarbone, et cetera, leaving in its wake a soft trail of the romantic scent. It's unclear exactly how the fragrance itself is stored or what form it's stored in, which makes me slightly dubious about the lifetime of the product. But seeing as Chanel knows fragrance, I'm sure it was done right.
Chance Eau Tendre, $70, Chanel
Developed in 2010, Chance Eau Tendre is the third fragrance of the Chance series and boasts notes of grapefruit and jasmine. A popular scent, you can get it in many forms, from body cream and hair mist to traditional perfume and shower gel. And now, you can also get it inside of a little pink compact that is so dang cute, throwing it into the depths of my grungy, eyeliner-marked purse seems flat out wrong. As Chanel describes it on their website, it's "the romantic, fruity-floral scent in an innovative and sleek cushion compact for fragrance touch-ups on the go."
When it comes to fragrance, Chanel is the authority. Coco Chanel launched the brand's first perfume, No5, in 1921, which has gone on to become one of the best selling fragrances of all time. What's more, Chanel has fragrance fields in Grasse, France filled with rose, jasmine, tuberose, mimosa, orange blossom, violet, and lavender, from which they've sourced their flowers for nearly a century so yeah, they are certainly the experts on the matter.
Which is why it comes as no surprise that they are the ones who are revolutionizing how we carry and apply perfume. While the fragrance compact will run you $70, which is basically what an entire new bottle of perfume would set you back, I can't help but to feel that its super cute packaging might be worth it? Or have I simply been brainwashed into believing that anything that's pink and cute and made by a trendy brand is automatically rendered worthy of a hefty price tag?
All I know is that I want it, and that it's something cool by Chanel that is actually feasible for me to afford. Because a $2,000+ quilted bag just ain't happening, sister!