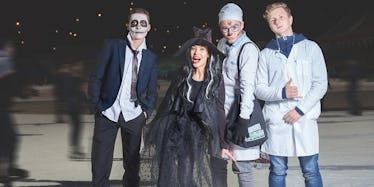 8 Things To Do On Halloween With Your Friends Instead Of Getting Wasted
petunyia/Fotolia
No matter where the night brings you, going out on Halloween can be an epic time if you're surrounded by your main girlfriends. If the bar scene isn't really your thing, your friends don't drink, or you just want to have a completely sober Halloween, there are still a ton of other fun things to do on Halloween instead of drinking. I personally don't drink much, and I have a bunch of other friends who are in the same boat. If you can relate, all you really need to do is find another awesome, festive activity that doesn't involve alcohol. Halloween even falls on a Tuesday this year, so for those of us who have to head into the office at the crack of dawn the next morning, we'll probably be literal zombies trying to cope with those nine to five feels.
There are so many things you can add to your bucket list that are just as much fun as drinking some witches brew at a bar. Whether you and your squad are throwing a party at home, or want to have a night out on the town, you'll certainly find an activity you'll all agree upon. So, without further ado, here are eight fun things you can do on Halloween that don't involve getting wasted.
1. Dance The Night Away
There's nothing quite like dancing to "Thriller" and the classics on Halloween. It's essential, whether you and your friends want to go out dancing somewhere, or decide to throw a dance party of your own at home. Make a solid playlist, get the pumpkin lights going, and you're set for an evening of fun.
2. Hit Up A Halloween Parade
Check out the parades going on in your city, or in any surrounding cities on Halloween. You guys will have a great time watching the zombies, skeletons, and creative floats pass by. Heck, why not join in on the parade if you can and slay your costume walk?
3. Get Spooked At A Haunted House
If you're looking for a chilling activity that you and your friends can do together, a haunted house never disappoints. You know you can survive all of the spooks with your friends there for support. Get ready to scream, and don't forget to wear a costume.
4. Hand Out Candy To Trick-Or-Treaters
The kid in all of us becomes super nostalgic on Halloween. You'll certainly get a kick out of all the little trick-or-treaters who come up to your door in their adorable costumes. Invite your friends over, post up on the porch, and snack on your favorite chocolate.
5. Make Non-Alcoholic Pumpkin Drinks Instead
If you're having a Halloween party but don't want to drink the alcohol, you can always serve festive non-alcoholic drinks instead. There are so many recipes online for pumpkin spice or apple cinnamon mocktails that are downright delicious. You can even make witches brew with fruit punch and Sprite, and serve it out of a very appropriate cauldron for fun.
6. Organize A Halloween Scavenger Hunt
There are a ton of Halloween games you and your friends can play, and none of them involve drinking. Organize a murder mystery game or a scavenger hunt to keep everyone entertained and hyped up throughout the night. If you go the scavenger hunt route, you'll get a variety of cute pictures in your costumes as you check things off your list. Pics or it didn't happen, amiright?
7. Have A Horror Movie Marathon, Complete With Halloween Popcorn Balls
Halloween is a prime movie time. There are so many classics everyone needs to see, that it just makes sense to invite the crew over and host a mini film festival. Have fun putting together Halloween popcorn balls (because we all know they're a fan favorite), and let the spooky films stream all night long.
8. Throw A Festive Baking Party
If you're obsessed with the variety of amazing fall flavors, there are a million different spooky dessert recipes you can make. Throwing a baking party on Halloween can be so much fun. You and your friends will get super creative in the kitchen, and let your baking skills shine. The best part? You get to taste everything once you're finished. Sounds like a pretty sweet Halloween to me.