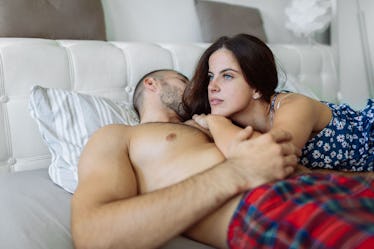 Here's How To Gently Tell Your Partner You're Not Sexually Satisfied
For some couples, sex can be a very important factor in a relationship, but that doesn't mean everyone has an instant sexual connection. Let's say you and your partner are getting busy, and they're doing the best they can, but for whatever reason, you're just not feeling it. Maybe they're not hitting the right spots, or they are, but not in a way that satisfies you. You deserve to get yours, and for that, it might be helpful to know how to tell your partner you're not sexually satisfied. It might be a tough conversation, but having it once and for all is probably better than experiencing another night of only-sort-of-satisfying sex.
Letting someone who loves and cares for you know that they're not satisfying you in the bedroom may not be the easiest thing for them to hear, and understandably so. Keep in mind, however, that "there is no universal definition of good sex," Jessica O'Reilly, Ph.D. and host of the Mindful Sex video course, tells Elite Daily. "But you're more likely to enjoy sex if you're open to learning and considering multiple perspectives." While having a conversation with your partner about not feeling sexually satisfied may be difficult and awkward, talking things over can have an incredible outcome on your sex life and bring you even closer together. Here's how to do just that, according to experts.