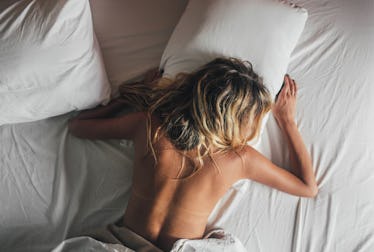 8 Women Talk About The Most Boring Sex They've Ever Had & It's Too Real
Just about everyone has probably experienced the pitfalls of boring sex. Few things are worse than being stuck in bed with someone who promised they were going to "rock your world," only to end up being rocked right to sleep. Sometimes no matter how hard you or your partner try, the spark just won't turn into a fire. If you've ever had an unforgettably snooze-worthy romp, then hearing women talk about the most boring sex they've ever had will likely send a familiar shiver down your spine.
Unfortunately, boring sex can happen in relationships as well as with casual hookups — and in the latter, it often strikes without warning. One minute you're wrapped up in all their funny jokes and quick wit, totally smitten, thinking that maybe, just maybe, they're about to give you a night to remember. All of the anticipation of texting for days has been building up, and if the seduction was a drawn-out affair, maybe you've spent hours fantasizing about how amazing you thought sex with them might be. And just when you finally made it to the pot of gold, the end of the tunnel, the ~climax~, if you will... there was no climax at all and the sex was disappointing. Subpar, at best. It's annoying, it's sad, but you're not alone. Here are eight women of Reddit (and eight very relatable Rihanna GIFs) who totally feel your pain.