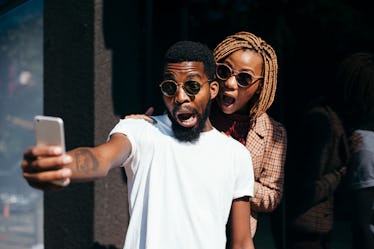 Here's How To Make Your Relationship Last If You Want To Go The Distance
Kat Grudko/Gallo Images ROOTS RF collection/Getty Images
It's easy to fall in love when you find someone you totally click with. You share the same passions, humor, and values. They always make time for you and you love having them around. And when your loved ones ask if you can see yourself with them long-term, you offer up a resounding, "Hell yes." For these reasons and probably more, you want to make your relationship last. But it can be hard to connect the dots from "made it past the honeymoon stage" to "happily, steadily dating," or even "married."
Of course, being romantically compatible with your partner — aligned on religion, politics, where you see yourself in five years, whether you're messy or neat, and the rest of it — aids in relationship longevity. Equally helpful is both partners' willingness to compromise and work through incompatibilities together. But there are other best practices you and your partner can adopt to help you go the distance, too.
I spoke to James Guay, a licensed marriage and family therapist, and Dr. Martha Tara Lee, a relationship counselor and clinical sexologist, about what you and your SO should keep in mind if you're looking to make your relationship last.