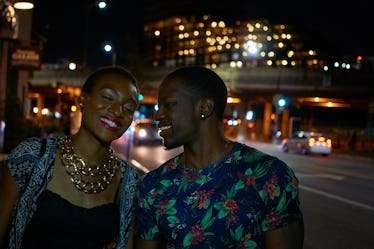 This Is How Often You Should Have Fancy Date Nights With Your Partner, According To Experts
Once you and your bae are official, settling into a date-night rhythm can take a bit of trial and error. Naturally, as the relationship begins to grow and evolve, adjusting your date-night habits accordingly is an important part of keeping the relationship momentum moving in the right direction. If you're trying to figure out how often you should have date nights, then kudos to you because so many people forget to devote time to keeping things on the up-and-up, only to find that while they were busy with other things, their relationship fizzled out.
And while every couple is different, there is definitely a general number of special evenings out you should shoot for depending on how long you've been in the relationship. If the thought of going on "fancy" dates with regularity sends a shockwave of panic through you (and your wallet), don't worry. These date nights don't necessarily have to be expensive. But, if your bae really enjoys the finer things in life (who doesn't, TBH?), then affording a bougie-ish night out from time to time is definitely attainable if you can both be disciplined enough to cut costs in other areas. But regardless of the cost, if the date planner's heart is in the right place, then anything they do to make date night feel a little special every so often will be greatly appreciated.