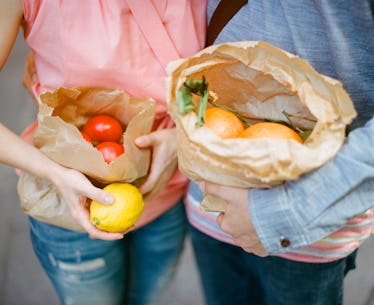 11 Affordable Dates You Can Take Your Partner On That Won't Break The Bank
As an avid believer in "whoever asks, pays" on dates, I try to be conscious about where I rendezvous with the many men I ask out. (JK, at 28 years old, I still have not mastered being the "asker.") I live in New York, where everything costs $72 dollars. I could invite a date to do laundry with me, and it would be pricey (probably because my laundromat has a bar in it, for real). Affordable dates to take your partner on are like amazing taco spots in New York — they are few and far between.
So, OK, you're probably thinking, "Is this, like, a Girls episode, or what?!" But seriously, I actually have a way normal dating life for a millennial Brooklynite. I mean, I get ready, I brush my teeth, and I end up at drinks for the millionth date in a row. (Please say at least three of you caught the Clueless co-option.)
Yes, as a first date, drinks are FINE and easy and, more importantly, easy to get out of. However, drinks are rarely cheap. Plus, after you've been dating someone for some time, planning "drinks" for a date night is gauche. You've already asked each other 20 questions while working on deepening your Malbec-teeth.
The other upside to planning a date night for a partner you've been dating for a while? You've got nothing to prove. Bae already knows you have a checking account, so you can take them on a romantic walk without seeming like you can't afford a Tecate. In my humble opinion, your partner won't mind if you take them on one of these affordable dates. In fact, you'll probably just seem super f*cking creative!
1. Go Bowling
Unfortunately, bowling is not cheap when you live in New York. (Also, yes, hi, hello from your resident hipster-adjacent white female!) But I like bowling as a date because it's an activity. You can both get competitive, which means you're not just talking about the same five things again. I think bowling could even work as a first date. (Or at least, I hope, because I am in the middle of an experiment called 51 First Dates, and going bowling is my next date. Eek.)
2. Go On A Hike
Those of you who live in L.A. do this all the damn time, and I'm jealous. Hiking is physical, free, and a great way to both be in nature and get to know someone. Some trails have breweries at the end of them. (Caveat: Not great for a first date. Be certain your partner is not a murderer before venturing into the forest with them.)
3. Go On A Bike Ride
More physical movement! (I promise I'll switch it up for those of you who like to be a little more "lazy"-faire on your dates.) This is cheap, and even if you don't have your own bikes, you can try out your city's bike sharing program.
4. Walk Around A Farmer's Market
Like a true f*cking hipster, yo! But in all seriousness, finding a food fest or farmer's market with good vibes and cheap vendors can be a great activity for you and your flannel-wearing boo.
5. Drink-And-Draw
So this exists in Brooklyn (duh/sorry), but I know it exists elsewhere, too. Certain artists' communities host "drink-and-draw" nights where, no matter your skill level, you can go draw and drink for a pretty low amount of skrilla. Plus, a lot of times, the subject is a nude model, which, model-dependent, may get you both in the mood.
6. Have A Cheese-Tasting
You know that little, tiny, semi-overpriced cheese shop in your neighborhood? Well, it's still less expensive than dinner. Go grab some really epic Camembert and parmigiano, add a bottle of wine, and be fancy at home for a night.
7. Find A Free Movie Screening
These happen a lot in the summer, but super artsy film houses might have free or cheap screenings of either really old or really new movies for you to go see. Being high brow about film is fun.
8. Go To A Museum
Like screenings, certain museums have donation-based prices of entry or particular nights that are free or cheap for young people. This date would pair well with an at-home cheese-tasting. An even cheaper hack? Go walk around galleries and pretend like you're going to buy something.
9. Go Volunteer
Because the world needs more volunteers right now, and because you'll find out how giving your partner really is.
10. Play A Game At A Dive Bar
Isn't there, like, a rule that every town has to have one dive bar with $5 beer specials? Even if you don't drink, cheap arcade games, ping pong, Skee-Ball, and even Big Buck Hunter are all really f*cking fun to play on a date. If you do drink, childhood games are much more fun when you have an adult beverage in hand. Another option: pinball... weirdly, my laundromat/bar also has a multitude of pinball machines (#Brooklyn).
11. Go See Cheap Theater/Comedy
People who want to perform for an audience for free are definitely out there. Search your local listings for any open mics, experimental theater, or even spoken-word readings. Who cares if the improv group ends up sucking? It's fun for you both to have something to talk about afterward. Plus, you supported some artists.
Most fun things in life require at least a little bit of money, but you don't have to take your partner out for foie gras to show them how much you care. (Plus, you care about ducks and geese, so you wouldn't order foie gras anyway.) Sometimes, simply choosing something you've never done together before can make a date that much more fun to be on. Luckily, you probably haven't done a lot of these cheap — but definitely a little creative, shoutout to myself — activities. Drinks are for basics.
Check out the entire Gen Why series and other videos on Facebook and the Bustle app across Apple TV, Roku, and Amazon Fire TV.
Check out the "Best of Elite Daily" stream in the Bustle App for more stories just like this!