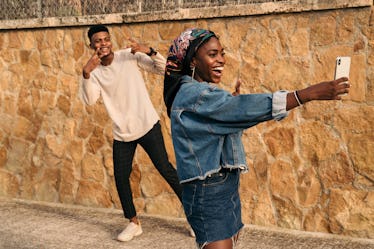 The #DailyVlog Trend On TikTok Lets You Catch Your BFFs Up On Your Life
Lucas Ottone, Stocksy
You may keep your BFFs updated on your latest virtual dates, cooking adventures, and DIY projects via a group chat. But, your text messages are probably not as detailed as a daily vlog on TikTok. Instead of giving your people a step-by-step recap of your day, they may simply focus on a few highlights. So, here's the scoop on how to film a #dailyvlog for TikTok that'll catch your BFFs up on your life in a fun way.
You might be thinking that nobody wants to see the epic salad you made for lunch or the packages of new clothes that came in the mail, but they do. Your friends especially want the first look of outfits you'll be rocking on Instagram, and to see how your cooking has improved during quarantine. They might pause your TikTok daily vlog at certain points just to take in a specific pair of jeans or get some inspiration for their next meal.
Long story short: Your vlogs are already highly-anticipated and desired. You just need to create them by filming little clips of your day with your phone, and then piecing them together in the app. TikTok videos can be up to 60 seconds long, so you have plenty of time to show off your look, lunch, workout, favorite show, and even the plants you watered.
Once you've pieced together your day, add some text, hashtags, and an audio clip or voiceover to your video. Here are some other tricks for filming a daily vlog for TikTok right at home.