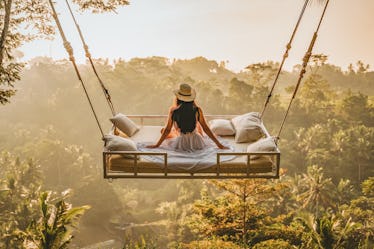 The Dream Trend On TikTok Is All About Manifesting Your #Goals
ljubaphoto/E+/Getty Images
Life in quarantine hasn't stopped TikTokers from thinking about their dream house, vacation, date, dinner, or car. The dream trend on TikTok is on the rise, as TikTokers are playing a sweet game with their friends, siblings, and partners over text, and then compiling screenshots with the #dreamtrend tag.
To be part of the TikTok dream trend, you simply have to text a person you love and ask them to participate in the fun with you. You'll start by choosing one of the categories, including: dream house, bedroom, car, vacation, dinner, and date. Then, you'll both send a photo at the same time of what you'd imagine your dream to be, and see how the visions compare.
You'll want to work your way through each category, and then finish off the game by screenshotting the photos in your text conversation. Compile them and post them on TikTok in a video showing a picture or video of the people participating in the very beginning. Be sure to use the #dreamtrend tag, and "Love Songs - Bonus" audio clip by Kaash Paige (@kaashmychecks).
Here are a few videos of the dream trend on TikTok that'll help you manifest your goals. Now, let the dreams commence.