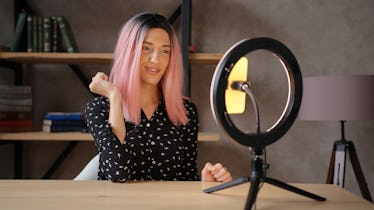 Here's How To Do The Renaissance Challenge On TikTok & Become A Work Of Art
Teraphim/E+/Getty Images
The Renaissance challenge has everyone on TikTok swooning over artfully crafted selfies. The trend uses the Time Warp Scan Effect on TikTok to make a normal photo look like an exquisite painting. You don't need expert PhotoShop skills or even a ballgown to look like royalty. Thanks to a few video tutorials, you can find out how to do the Renaissance challenge on TikTok in just a few steps.
Depending on the method you choose to follow, you'll need to download some extra editing apps in order to place the background of your choice in your photo. You can use the Al Gahaku program, Procreate Pocket, or PicsArt, and then the Videoleap Video Editor. You'll also need to pick out your favorite painting for a background. Then, you can really let your artistic design shine by posing with grapes to look absolutely regal in front of your mansion. The brush is in your hands to create your own work of art.
You're sure to make your followers' jaws drop when you post your take on this fun TikTok trend. When your followers see you channeling a royal role in another century, they'll crown you a TikTok goddess, eager to find out how to do the Renaissance challenge on TikTok, too.