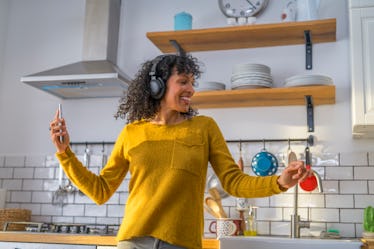 These TikTok Shuffle Tutorials Teach You The Moves & Grooves Of This Epic Dance
simonkr/E+/Getty Images
By now you should know there's never a dull moment on TikTok, and a dance trend that's sweeping everyone off their feet — literally — is the shuffle. This dance can look a little intimidating, but it's totally worth the effort of getting all the moves down. So, don't fret, because these TikTok shuffle tutorials will get you moving and grooving onto everyone's For You page.
The shuffle has a few different moves, like the running man and the leg wave. Once you've mastered the steps, you can get creative with stringing them together to create your own choreo that is fun and totally brand new. To learn to shuffle, you'll need some space to practice your moves, your fave song to practice to, and a laptop to watch the tutorials on. Soon enough, you'll be ready to film your own shuffle video.
You can even gather the housemates for an LOL-worthy activity the whole crew can be a part of. Once you and your squad are done laughing and shuffling over one another, you can film yourselves doing a group shuffle video for a TikTok that's sure to impress. Your followers will think you're master dancers when they see how coordinated your dance team is, and soon they'll be hitting you up to make your own TikTok shuffle tutorials.