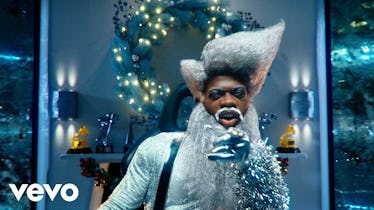 Get In The TikTok Holiday Spirit With These Lil Nas X & Mariah Carey Challenges
While the most wonderful time of the year might not look the same in 2020 due to the ongoing pandemic, people are still making the holidays their own and sharing some inspiration on TikTok. In the mood to master a festive dance routine or join fellow users who are embracing the spirit of giving? These TikTok holiday trends for 2020 have got you covered.
It's no secret that TikTok is a never-ending source for challenges, dance routines, and hacks, and it's safe to say users have upped the ante in the spirit of the season. TikTok, which became the most downloaded app in the world during quarantine, reached more than 2 billion downloads in August. Also in August, the app reported it had reached a milestone of over 100 million monthly active U.S. users. With so many new users on the app for the first time during the holidays, people are getting creative and sharing how they celebrate and what traditions they do this time of year as well as holiday baking hacks and dance challenges. Here are some of the biggest hashtags currently trending on the app.
1. #HolidaysOurWay
While you may not be traveling this year or spending the season with your family, the #HolidaysOurWay hashtag is a place where people are sharing the different ways they celebrate, including videos of family and cultural traditions, decor and crafts, and food. The hashtag, which currently has 3.7 billion views as of Dec. 16, includes some Diwali, Kwanzaa, and Hanukkah videos. You can join in by sharing videos of your own family traditions or informational videos about celebrating different winter holidays.
2. #MakeItMagical
There's no one more festive than Mariah Carey, and the Queen of Christmas is helping everyone lean into the spirit of the season with the release of a her new Christmas special on Apple TV. The #MakeItMagical hashtag is filled with videos of people dressed in their most festive attire lip syncing to Carey's Christmas anthem. To get in on the fun, run through Carey's iconic lyrics and channel Mimi by dressing up in your best holiday threads.
3. #GivingSzn
It's no secret 2020 has been a tough year, which is why the #GivingSzn hashtag is encouraging TikTok users to help those in need by introducing the new donation link in profile feature. Tap to donate when you see the option in a #GivingSzn video, or share your own worthy cause for viewers to check out adding the Support Nonprofit button in the Stickers menu. From there, TikTok will show you a list of charities that you can choose from. Once you make your selection, viewers who click on it will be directed to its website to make a donation.
4. #HolidayMusic
There's nothing quite so symbolic of the season as holiday music, which is why it's so fitting that people are putting their own spin on the holiday classics with covers, skits, and more. Browse the #HolidayMusic hashtag to discover some new musical talent or funny twists on the songs you know and love. If you feel inspired to show off your own musical chops, join in the fun by creating your own cover of a holiday tune.
5. #HolidayChallenge
If you're bored in the house, put your dancing shoes on and head to #HolidayChallenge to master this dance routine set to Lil Nas X's single "Holiday," which was released on Nov. 13 — bonus points if you get one of your friends or family members to do it with you. To get started, check out this tutorial so you can learn the dance routine.
All of these hashtags are trending on the app as of Dec. 16, with millions of submissions, so be prepared to kiss your productivity goodbye and spend some time scrolling.