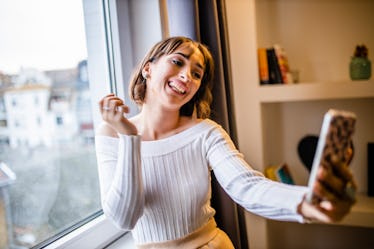 10 TikTok Photo Hacks That'll Totally Elevate Your Selfie Game
DjordjeDjurdjevic/E+/Getty Images
There's no such thing as posting too many selfies. It never gets old showing your followers a cute new 'fit, cool pose you discovered, or bold lip color and smokey eye you're all about. But, before you snap away, consider switching up your photography skills with these TikTok photo hacks that'll totally elevate your content game.
Each time you see new TikToks or pics, it seems like people are taking their creative abilities to new heights. Luckily, TikTok has all the answers once again. You can turn a selfie under an overcast sky into a dreamy cloudscape with a quick photoshop hack. Or, give your photos that chic off-duty model look with some great couch poses. You can get design inspo from these TikTok photo hacks to create artsy collages so you can really make your next IG Story stand out from the rest.
Whether you're looking for some cute new filters to make your photos pop or wondering how many influencers get their Insta posts to be so sharp, you'll need these TikTok photo taking hacks to turn yourself into an expert selfie photographer. Who knows, you may even get a few DMs from followers asking you to teach them your ways.