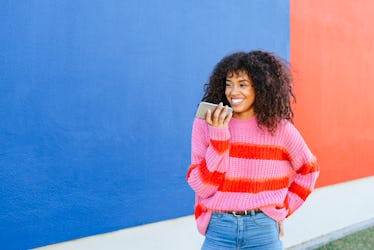 These iPhone Hacks From TikTokers Are The Coolest Tricks Yet
Westend61/Westend61/Getty Images
Thanks to TikTok, there are always new life hacks. There was the time you got the scoop on how to clean your AirPods, and the time your favorite TikToker showed how to pose in mirror selfies. But, despite having tons of good hacks in your back pocket, you're still looking for more iPhone hacks on TikTok that'll make your life easier and, let's be honest, cooler.
You want to know all the shortcuts that exist, so you can amaze a coworker during your next Zoom meeting or a housemate during dinner. You don't want to be left in dark mode on the unique ways you can tap the back of your device or take photos that are as high-definition as a movie. So, you may be scrolling through the #iphonetricks hashtag in the days after each new iOS update to get the latest tips from TikTokers around the world.
Give your thumb a break from the swiping and scrolling, and watch the below iPhone hack videos on TikTok. Each might make your mouth drop or make you think, "Why haven't I been doing this all along?" These hacks just might be life-changing and make you look at your iPhone a bit differently.