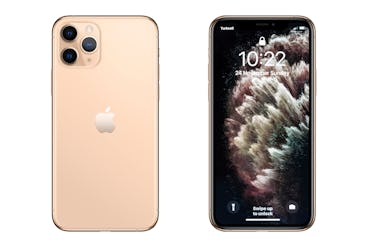 iPhone 12 Models Have New FaceTime Tricks & A Night Mode Selfie Feature You HAVE To Try
guvendemir/iStock Unreleased/Getty Images
Since the highly anticipated launch of the iPhone 12 and 12 Pro on Friday, Oct. 23, fans have been raving about the new lineup's features. In addition to the super popular features like 5G, there are also some cool tricks you may not know. To fully take advantage of your upgrade, check out these iPhone 12 and 12 Pro updates and hacks.
Whether you already have the new devices or plan to get them, you'll first want to know what sets them apart. All the phones have an ultra-clear OLED Super Retina XDR display, but the screen on the iPhone 12 measures in at 6.1-inches, while the iPhone 12 Pro's is 6.1-inches. The iPhone 12 Mini is the smallest of the options measuring in at 5.4-inch display, while the 12 Pro Max has a 6.7-inch display. The iPhone 12 and 12 mini come in Black, Product Red, White, Blue, and Green color options and start at $799 and $699, respectively. The 12 Pro starts at $999 and comes in Pacific Blue, Silver, Graphite, and Gold shades, while the 12 Pro Max is available in the same colors and starts at $1099.
The bulk of the differences between the 12 and 12 mini and 12 Pro and 12 Pro Max lie in the camera systems, which are dual and triple-camera setups, respectively. But all four phones offer incredible features, including some lesser-known hacks that will make it even more exciting to discover what your new iPhone can do. For the purposes of these hacks, the mention of iPhone 12 refers to what the 12 and 12 mini can do, and the iPhone 12 Pro refers to what the 12 Pro and Pro Max can do.
1. Take night mode selfies.
You can take night mode selfies on each of the new iPhone 12 phones. All you need to do to take a night mode selfie with iPhone 12 or 12 Pro, is to make sure you're in a dark enough environment by checking the top left corner. You'll know it's activated when you see the night mode icon in yellow. Then, all you need to do is take a photo, and you'll see the brightened picture.
2. Measure your height.
The iPhone 12 Pro comes with something called a LiDAR Scanner, which is one of the sensors in the device. The LiDAR, which stands for Light Detection and Ranging, helps create three-dimensional modeling of objects, and is a big game-changer for enhancing augmented reality and some other photography features in Portrait photos. If you use the 12 Pro's Measure app, you can measure your height by standing in the camera's frame and using the scanner.
3. Stop iPhone from switching between networks.
The iPhone 12 lineup of phones comes with 5G capability, but there's a feature that automatically switches between 5G and 4G LTE. The thing is, sometimes one network is faster than the other, and your iPhone stay in 5G (or LTE) when you don't want it to. The auto switch feature is handy when you want to save battery life, but sometimes that's not the case. To fix the setting, you can manually switch by going to Settings > Cellular > Cellular Data Options > Voice and Data. Then, change from "5G Auto" and select either "5G" or "LTE."
4. Take time lapse videos in night mode.
When you're done taking night mode selfies, you can get ready to take time lapse videos in the dark. The new feature on iPhone 12 and 12 Pro will let you record time lapse videos without a flash, so you can get that time-warp feel even when the sun goes down.
5. Get stable videos, even if you're moving.
This 12 Pro hack lets you get clearer, more stable video even if your subject (or you) are moving around. Try taking a video or a photo of a moving object and it may have you impressed. The optical image stabilization (OIS) on iPhone 12 Pro keeps your videos stable by making adjustments to the Wide camera 5,000 times per second.
6. Make HD FaceTime calls.
The iPhone 12 and 12 Pro make it possible to have up to 1080p high definition on your FaceTime calls. So if you're unable to connect to Wi-Fi, you can still get HD quality video calls by making a quick tweak to your settings. To make it possible, go to Settings > Cellular > Data Mode. Then, check the option that says "Allow More Data on 5G."
Before, phones couldn't reach the 1080P resolution without a Wi-Fi connection, and had a lesser resolution.
7. Set up an alternate appearance for FaceID.
If you want your FaceID to recognize you at all times, even when you're wearing a mask or glasses, you can register an alternate ID. While this isn't new for iPhone 12 & 12 Pro, it's still a handy hack if you didn't know it existed. To set up an "alternate appearance," go to Settings > Face ID & Passcode > Set Up an Alternate Appearance.
8. Shake your screen to undo typing.
YouTuber Eduardo Acosta pointed out this fun hack in a YouTube video from his channel HotshotTek. If you're typing up a message and want to delete it, a quick way to do it is to shake your phone. An "Undo All" message will appear on the screen. Tap "Undo" and the text will clear without you needing to do the traditional "Select All" process or hold the back button down.
9. Set eye contact with FaceTime
While you're using FaceTime, you may notice that your video shows you looking at the camera. Now, with iOS 14, you can go to Settings > FaceTime and change that. Find the toggle for "Eye Contact" and turn it on. Now your FaceTime will adjust to make it look like you're looking directly at the person you're talking to instead of looking at your camera.
10. Screen record with audio.
If you're sharing a video of your screen with a friend or posting a video, iOS 14 lets you record your voice along with your screen activity. To do so, pull down the Home screen menu and tap the "record" icon. Then, long-press to turn on your microphone.
These are only a few of the iPhone 12 and 12 Pro hacks out there, so start testing out what your new smartphone can do.