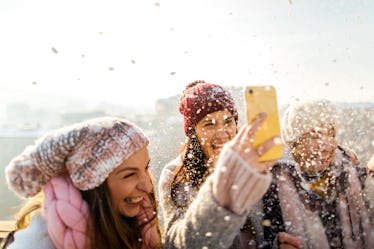 These Snow Day TikToks Will Be Snow Ballin' On The #ForYou Page & Your Feed
AleksandarNakic/E+/Getty Images
Getting snowed in for the day is pretty amazing when entertaining apps like TikTok exist. You could sit on the couch with a pair of slippers on and scroll through your #ForYou page for hours. Of course, you could also film these snow day TikToks that'll look so ice on your feed and rack in the likes from your followers, friends, and fellow TikTok lovers.
Some snow day TikToks wouldn't require you to go farther than your couch, where you may be watching a holiday movie that was just released, or reading a funny novel. Others will encourage you to put on your favorite beanie, fluffy coat, and pair of mittens, and play around in the snow like you're a kid again. You may need to build an epic fort and give a tour of it, come up with a new dance where you blow snowflakes into the camera at the end, or snow off your favorite winter #looks from your closet while chilling in your backyard.
The possibilities are endless, and you'll want to take some time to find the perfect audio to match your video's vibes. If you're filming a scene inside, a track off of Taylor Swift's evermore album would be a great fit, while an outdoor one may pair nicely with a remix of "Jingle Bell Rock" by Bobby Helms. One thing is for sure, though: no matter which of these snow day TikToks you choose to film, it's sure to look ice on the #ForYou page and your feed.