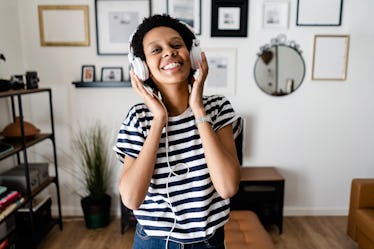 Add These 10 Songs To Your WFH Playlist To Jam To Every Day
Westend61/Westend61/Getty Images
When you're working from home, it might be difficult to stay focused all day long. There are just so many distractions nearby from food in your kitchen, to your bed in the next room, to your pup who is super happy you didn't leave for the day. It becomes essential that you have a WFH playlist on your phone filled with work from home songs you can jam to every day.
That way, when you hear certain tracks you may think, "Let's get this task done," or "I've got this." You're filled with inspiring ideas, and have a lot of motivation to do your best and not climb back into bed with your SO who's still snuggled up in the sheets. Instead, you're happily writing up reports, checking in with your co-workers via email, and completing the tasks you wrote down in your planner the day before.
The best part? That energy is coming from a bunch of songs you may or may not know the lyrics to, but fuels you just the same. Every beat, tone, or riff makes you feel on top of the world, even though you're chilling in your desk chair with your laptop. Here are the 10 songs you should add to your WFH playlist right now. Let the jams begin.