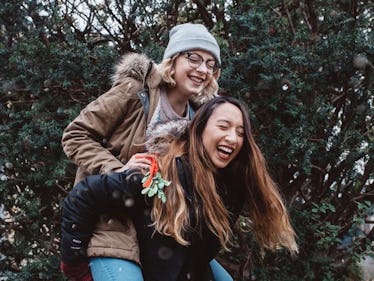 Here's How to Ace Holidays With Your SO's Family When They're Religious & You're Not
'Tis the season for many winter wonders, including family stress. Along with gifts to grab and flights to catch, one concern may be spending the holidays with your partner's family when they're religious and you aren't. Whether you've just aced cuffing season tryouts or have been with your partner for a while, the religious differences may seem like a daunting seasonal challenge.
Navigating differences in gender identity, race, sexuality, or ability in relationships has always been tough. But varying religious backgrounds might affect millennial couples in a distinct way. Data from Pew Research Center shows that millennials are the least religious generation. For example, only 28 percent of millennials go to church and 39 percent pray daily— whereas 34 percent and 56 percent of the Gen Xers and attend church and pray, respectively. For Baby Boomers, it's 38 percent and 61 percent.
Either way, it's possible that you won't share religious beliefs with the person or people who raised your partner. Even if you're confident in your relationship, it's a fear of judgment that can weigh heavy on your heart.
So, what to do? Well, I talked to two etiquette experts and came up with five things you can do to skate through religious family functions with ease.