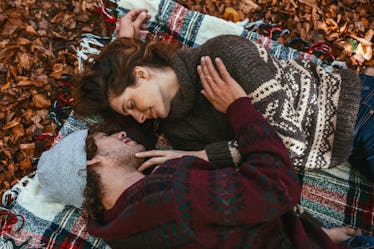 5 Cuffing Season Success Stories That Actually Exist IRL, According To Real Women
It's no secret that as the carefree, flirtatious nature of summer winds down and autumn arrives, many singles are looking to lock down a boo to spoon all winter long. But are there any cuffing season success stories, or are these cold-weather romances bound to fizzle out come March?
The bottom line is, we're a little more prone to loneliness during the colder months — we're less inclined to go out, which means a relationship starts to look a lot more appealing. Whether your ideal night in involves watching a football game with a few seasonal brews or whipping up some chili and warm beverages, the truth is, #hibernationmode can be more fun when you have a partner in crime. Plus, by dating someone come fall, you're guaranteed to have a date to all those holiday parties that are approaching. Some say these relationships are merely a fleeting series of snugglefests that are bound to end as soon as you start swapping your cozy sweaters for crop tops. But do they have the potential to grow into something serious that extends well past the colder season?
According to Facebook data from 2010-2011, people are more likely to change their status to "in a relationship" between the months of October and February, and many people change it back to "single," in March. But don't worry — that doesn't mean that all cuffing season romances are doomed before they even begin.
Here are a few cuffing season success stories stories to warm you up as the temperatures drop.