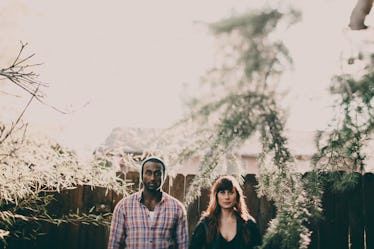 10 Incredibly Rude Things Interracial Couples Have Heard That'll Make You Cringe
Anyone who's ever dated someone outside of their ethnic group will probably tell you that being one half of an interracial couple isn't always easy. Sadly, simply loving someone of a different race can often bring upon tons of scrutiny and shocking assumptions by complete strangers. Rude things interracial couples have heard can range from racially charged "observations" to outright hate speech. It can be easy to dismiss this harassment as something that used to happen back in the day. However, as someone who is currently in an interracial relationship, I can confirm that this isn't the case.
Growing up, may of us were taught to deal with verbal harassments with a "sticks and stones may break my bones but words will never hurt me" mentality, but the truth is that words are extremely powerful, and I think we can all agree that they definitely have the power to belittle, trivialize, and hurt others. And while there are, no doubt, interracial couples who haven't experienced discrimination, according to countless anecdotes, (here, here, and here) prejudice is alive and well. Being aware that discrimination is still happening is the first step to helping everyone understand that making assumptions about a couple based on their differing cultural heritages is something that has no place in modern society.