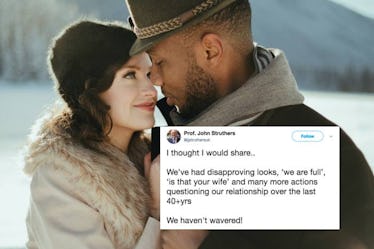 People Are Tweeting In Celebration Of Their Interracial Relationships & It's So Pure
I really wish we lived in a time where you really could love whomever you wanted to love, without any sort of judgment — especially when it comes to someone's race. But unfortunately, that's not the case in the world we live in today. Yes, we've come a very long way from where we were 50 years ago, but that's certainly not to say mixed race couples don't have to deal with weird looks and offensive comments that unfairly question the legitimacy of their love. But on a more inspiring note, these tweets about people's interracial relationships shed light upon their struggles, and more importantly, they teach us that, at the end of the day, love really is love.
The conversation started when John Struthers (@jjstruthersuk on Twitter), a professor of economics in Scotland, posted a photo of himself with his wife, who's from Ghana. He posted the beautiful photo, along with the following, caption:
I thought I would share..
We've had disapproving looks, 'we are full', 'is that your wife' and many more actions questioning our relationship over the last 40+yrs
We haven't wavered!
The best way of fighting racism is living your life, standing tall and educating. #Diversity
Check out the sweet tweet for yourself below:
The tweet struck a chord with people throughout the world, and many Twitter users responded by sharing their own pictures featuring their mixed-race relationships, along with anecdotes about their own experiences.
David Bowie's son, Duncan Jones, responded with how the tweet resonated with him on a personal level.
This couple will have been together 29 years in February.
Her grandparents managed to stay in love, despite the racism rampant during their lives.
Professor Struthers and his wife served as an inspiration to so many.
This person's parents knew love is more powerful than ignorance.
This couple's two cultures blended together by the power of love.
This couple feels blessed to live in a time where they can celebrate their love safely.
These two met 50 years ago and are still just as in love.
This person takes solace in the fact that people's mean comments simply stem from jealousy.
This couple has been together happily for 23 years!
Professor Struthers' story is an important model for younger interracial couples.
This couple comes from two different countries, but they've built a life together for the past 15 years.
This person's parents spent 40 years together before her father passed away.
This couple tunes out ignorant comments because they know love is love.
This couple has had a more difficult time this year than they have in the past 15 years.
The professor's photo provided a "glimpse into the future" for this couple.
This person rejoices in seeing other mixed-race couples thriving in the public eye.
This couple embraced each other's cultures on their wedding day.
These two have been together since they were teenagers.
This couple had an Iranian wedding in the husband's homeland.
In a world filled with depressing headlines and negative social media posts, it's refreshing that Professor Struthers decided to use his own love story to offer up a glimmer of hope to others who might be struggling. One Twitter user, Ali Mufuruki, expressed his gratitude for the post in a tweet saying:
Every once in a while, a random human being shares something so beautiful, so powerful it restores my faith in humanity. @jjstruthersuk has just done that for me today. Thank you so much and God bless you!
This is an important reminder that, no matter what, love is love — in all of its many shapes and sizes.