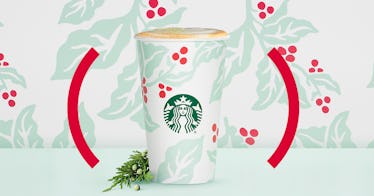 Starbucks' Festive Juniper Latte Is A Limited-Time Holiday Sip, So Drink Up ASAP
At this point, you've probably tried at least a sip of Starbucks' latest and greatest creation: the Juniper Latte, and there's a good chance you fell head-over-heels in love with it. I mean, how could you not? It tastes like Christmas in a freaking to-go cup, for crying out loud. Anyway, if you've grown particularly accustomed to the new beverage, you might be wondering how long Starbucks' Juniper Latte is available. Like most Christmasy Starbucks beverages, it won't be around all year long.
Starbucks' Juniper Latte is comprised of espresso, steamed milk, and juniper syrup, according to the Starbucks website. It's topped with creamy foam and "pine-citrus sugar dust," to make it taste extra rich, and look just like a twinkling Christmas tree. In terms of how it tastes, the Juniper syrup gives it a very faint pine tree flavor, which is combined with the strong taste of espresso. The beverage also has delightful, subtle notes of citrus, and honestly, it's pretty much everything I could ever ask for on a chilly December day. Yum.
If you've taken a strong liking to the Juniper Latte, you'll be devastated to hear that — like most holiday drinks — (such as the Eggnog Latte or Peppermint Mocha), the Juniper Latte won't be around forever. That's right — according to the Starbucks website, it'll only be available "for a limited time, while supplies last." Oh, well. Elite Daily reached out to Starbucks to find out about an exact end date, but did not hear back in time of publication.
OK, for real though, how beautiful is that gorgeous creation? IDK about you, but I could stare at one of those babies all day long, admiring the twinkling pine-citrus sugar, while simultaneously inhaling the sweet, tangy smell of oranges and evergreen trees. In my personal opinion, that sounds like a pretty productive day to me.
If your fondness for the Juniper Latte is a little too real and you're looking to BOGO on this festive beverage, have no fear, because Uber's Week of Cheers is here. Between Monday, Dec. 3 and Saturday, Dec. 9, you'll be eligible to receive a BOGO Starbucks coupon for any hand-crafted espresso drink after you complete your ride. Your BOGO Starbucks drink coupon will be sent to the email address associated with your Uber account. To redeem the coupon, show the barcode to your barista when you go to pay. You'll only be able to redeem your barcode once, but you can earn up to three total coupons during Uber's Week of Cheers. It can be redeemed any time after 2 p.m through Tuesday, Dec. 12. Pretty nice, right?
Starbucks' Juniper Latte is delicious and ultra-festive, but sadly, it's only around for a limited amount of time. If you haven't already gotten one for yourself, make sure to get one ASAP, because who knows how long they'll be around after the holiday season ends? It's up to you to get in on this glorious gift from above, and remember, if you use Uber this week — claim that BOGO coupon. You might be able to get two Juniper Lattes for the price of one.