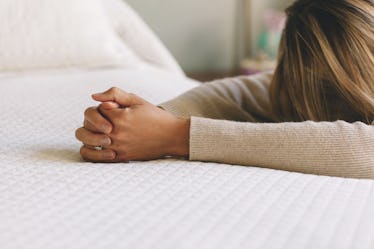 7 People Who've Broken Up Over Religion Reveal What It Was Like & You'll Totally Relate
Like most people, I have a handful of deal breakers — personality traits or lifestyle choices that, while I don't judge the person for them, I know will make us romantically incompatible. Near the very top of that is someone who is very religious. That's pretty much an automatic no-go for me. Just to be clear, if someone is serious about their spiritual practice, I think that's great. However, I know myself well enough to be honest that the friction our different beliefs would cause would eventually lead us to be broken up because of religion. So, to save my heart and those of others, I just don't go there.
Other folks, however, have not been so lucky. After stumbling upon a Reddit thread about this very topic, women revealed how different religious beliefs — or degrees of belief, if they were from the same religious background as their partners — led to the demise of their relationships. For some, it was a realization that the religious differences meant they had very different values. For others, it just meant this relationship couldn't go the distance because of cultural or familial expectations. If you've ever had a romance end because of a core belief, spiritual or not, you're going to relate to these women's stories.